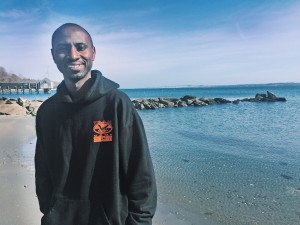 As a young boy growing up in a coastal village in Ghana, URI graduate student Evans Arizi could see the economic importance of fish.
He saw local fishermen  in Metika and Anlomatuope — fishing villages near the border of Ghana and Cote d'Ivoire in West Africa — paddle their canoes into the waves and watched international boats cast nets into the water to reel in Ghana's main source of protein.
He also saw how frequently fishing resources were exploited.
"The challenges are many," Arizi, 29, says. "Some fishermen are using inadvisable methods of fishing, and the territorial waters are not protected due to insufficient logistics, so anyone can come in there and fish."
In Ghana, lack of government investment in sustainable fishing policies has created a plethora of problems with illegal fishing. Because fishing laws are not properly enforced, vessels frequently use incorrect gear, like nets that are too small to free bycatches and immature fish, therefore increasing their catch and profits but depleting the stock of young fish before they can reproduce. Though fishermen are supposed to report juvenile catches, many do not out of fear of punishment. Arizi says local fishermen sometimes adhere to practices that pollute waters and lead to species degradation.
"Local authorities back these illegal practices out of greed," he says. "(They think,) 'Let me think of my stomach, let me not think of others.' "
Arizi aims to help change that culture at home, and the path to that goal has taken him to URI. He was introduced to the university through CRC. As an undergraduate, he participated in a fish stock assessment training program that was part of a CRC sustainable fisheries project in Ghana, which "provided many useful relevant materials" to local fishing communities, he says.
CRC currently leads a group of partners in the five-year Sustainable Fisheries Management Project in Ghana funded by the United States Agency for International Development (USAID/Ghana SFMP). The project aims to improve conditions for sustainable local fishing practices, help fishing communities become stewards of their resources, strengthen information systems for managing fisheries and increase awareness for protecting fisheries ecosystems and the people who rely on them for their livelihoods, among other goals.
To help create the next generation of fisheries scientists and leaders in Ghana, the project is facilitating student exchanges and scholarship opportunities at URI in collaboration with the University of Cape Coast in Ghana, Arizi's alma mater. Through CRC, Arizi applied for a scholarship to earn a PhD in Biological and Environmental Sciences at URI. He was accepted and moved to URI to begin the three-and-a-half-year program in January. It was his first time outside of Ghana.
"When the opportunity came for me to come here I was so excited," Arizi says. "I felt that by coming here I would get the necessary materials and resources to be equipped to handle the opposition (to implementing and enforcing sustainable fishing laws in Ghana)."
Before coming to URI, Arizi worked as a principal research assistant for the Department of Fisheries & Aquatic Sciences at the University of Cape Coast in Ghana. That experience, his fieldwork with CRC and his course work as an undergrad and graduate student at the university in Ghana brought the fisheries challenges into sharp focus. Much of it comes down to competition, Arizi says.
"When an individual spots a friend doing such an unwarranted act (like illegal fishing practices), he will decide to do the same," Arizi says. While he believes the government needs to implement and enforce fishing laws recommended to them by many — including SFMP, which helped the country draft the recently adopted National Fisheries Management Plan — the most important change needed is in the behavior of fishermen.
"The fishermen have to change their behavior and also put their trust in others, he says.
Arizi hopes that his wife, whom he married a month before moving to Rhode Island, eventually can join him. Currently, however, his main focus is his studies. "I don't want to get any Cs, not at all, so I have to work hard," Arizi says. "My wife keeps on encouraging me to do well." He is the first member of his family to go to college; however, he hopes his six siblings can follow his lead.
Though Arizi says that working to excel in his five classes often means waking up early in the morning and staying up late at night, he likes graduate school.
"God has done a lot for me, because of all my friends who started out in school at the same time, I'm the only one who made it to this level," Arizi says. "I like education; knowledge is power."
— Allison Farrelly