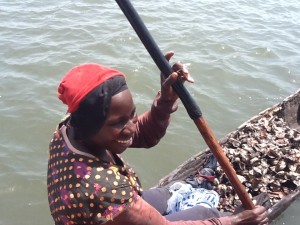 CRC works to develop innovative methods of research, extension and outreach to sustainably manage valuable fisheries and aquaculture resources in Rhode Island, the United States and around the globe. CRC is recognized for taking an integrated approach that considers the entire fishery system—from management of sustainable harvests and early engagement of local stakeholders to added value for the supply chain and end users.
This approach includes improved governance solutions, ecosystem-based management, capacity development and collaborative and adaptive management plans. Through its position within the URI's Graduate School of Oceanography and its partnerships with the College of the Environment and Life Sciences and other university entities, CRC is able to call on a wealth of knowledge from world-class researchers to bring the best-available science to its work, applying a learning-by-doing approach that affords rapid responses to changing realities.
As the world's burgeoning population turns to the sea for food security, many nations aquaculture—farming of seafood, pearls, ornamentals and plants—to supplement wild catch. When developed in an environmentally and socially responsible manner, aquaculture can provide food, employment and income. If not developed properly, aquaculture can negatively impact critical coastal ecosystems and pose risks to human health. For three decades, CRC has been assisting governments and industry in nations around the world to develop responsible aquaculture through best management practices, private partnerships, public zoning and regulations.
CRC's approach emphasizes responsible coastal management and sound environmental planning to minimize user conflicts and environmental impacts. It engages policymakers, aquaculture associations, fishing communities and civil society.
Our guiding principles: Fisheries
Through decades of experience and lessons learned, CRC has developed these guidelines regarding sustainable fisheries:
Ground the conception, execution and management of programs on sound science
Create inherently flexible management plans for adaptation to complex and constantly evolving needs
Create results-oriented programs, describing how impacts will be measured and monitored
Conduct monitoring and reporting in a timely manner so that responsive action can be taken
Involve both harvest and post-harvest segments of the industry in management and decision making
Promote ecosystem resilience for goods and services that conserve biodiversity
Promote marketing of sustainably sourced, socially responsible and high quality seafood products
Where appropriate, help fisheries transition from open-access and combine managed access, alternative livelihoods, collaborative management and rights-based approaches for lasting success
Promote engagement of all stakeholders
Promote social responsibility and equity as key objectives, including fair labor practices, fair prices and safe working conditions
Develop and adopt codes of conduct and best management practices
Our guiding principles: Sustainable aquaculture
Conduct feasibility studies, environmental impact assessment and financial analysis at the individual operation and ecosystem level prior to establishing and expanding a new project or testing new species production
Properly site the operation to reduce environmental, natural hazard and social impacts
Identify and protect key ecosystems that need to be conserved to ensure resource sustainability—a fundamental tool of land use management
Following best management practices while maintaining a sound and healthy ecosystem to achieve long-term sustainability
Consider potential off-site impacts of aquaculture siting, construction, and production and mitigate by maintaining adequate buffer zones and the natural environment surrounding the site as much as possible
Pay attention to capacity building of institutions and coordination of agencies responsible for enforcing regulations, permitting and licensing
Work to streamline government policy where there are overlapping, duplicative or outdated regulations and unclear agency responsibilities
Use practical exercises and demonstrations as well as extension services to promote best practices
Develop operational guides and extension materials to make information readily accessible and improve knowledge for the people who most need it
Apply technology that is appropriate to the knowledge, experience and capacity of producers and the local context
Ensure that the aquaculture industry is integrated into public decision-making processes at all levels so as to minimize undue burdens from cumbersome permitting and licensing requirements
Educate the wider public about the practices of aquaculture to dispel myths and help ease and minimize use conflicts
Facilitate dialogue with the aquaculture industry, lawmakers and other stakeholders to prioritize science needs, monitoring and best practices for all elements of the aquaculture value chain