CRC's primary clients are the people living in the nations where we work. Hence, an ethic of public service underlies all we do. We strive not only to build our own skills, but also to share these skills and and to learn from our work with our clients. This, in turn, allows us to expand their skills and experience. We respect the people we work with and for around the world and value collegiality and long-term relationships as we pursue our shared goals. It is for these reasons and more that we model this mindset and behavior in all the work we do.
CRC values
Innovation, entrepreneurship and learning from mistakes
Accountability for how we execute our work, its quality and the inclusion of stakeholders
Working both internationally and in our own backyard and sharing across these borders
Adapting to meet the changing needs in the places where we work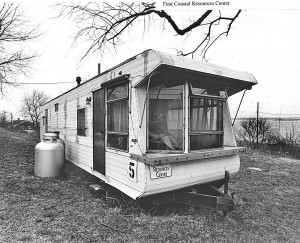 CRC History
For more than four decades, CRC has worked with governmental and nongovernmental stakeholders alike to understand the issues affecting the coasts of Rhode Island, the United States and other nations around the globe and to find solutions to these issues. CRC is proud to be a partner in the many tangible successes resulting from these efforts.
Timeline
2014 – U.S. Department of the Interior awards a $400,000 grant to CRC to help the three R.I. municipalities prepare for climate change by adding green infrastructure — techniques that build on the natural ability of vegetation, soil and rocks to slow and/or absorb water — to their planning approaches
2014 – U.S. Department of Agriculture chooses CRC to lead implementation of the West Africa Analytical Support Services and Evaluations for Sustainable Systems (ASSESS), a $6.5 million, five-year effort to provide analytical support services and evaluations for of USAID/West Africa programs in agriculture, environment, trade and energy and to establish the Africa Center of Excellence in Ghana
2014 – CRC awarded $559,296 from the Rockefeller Foundation in support of monitoring, coordinating and communicating learning from grantees and partners of the Foundation's Oceans & Fisheries Initiative
2013 – CRC awarded $659,238 in grant funds from the Gordon and Betty Moore Foundation for a two-year project focused on educating professionals involved in planning the allocation of ocean uses and resources
2013 – Sustainable Fisheries and Responsible Aquaculture: A Guide for USAID Staff and Partners is published
2013 – Rhode Island Ocean Special Area Management Plan:Managing Ocean Resources Through Coastal and Marine Spatial Planning, A Practitioner's Guide is published
2013 – Development of Shoreline Change Special Area Management Plan (Beach SAMP) underway
2012 – CRC is asked by the state to help it create the first comprehensive Rhode Island Shellfish Management Plan to oversee the protection and enhancement of these critical economic, social and environmental resources
2012 – in the Gambia, with capacity development support from CRC and the World Wildlife Fund, the TRY Oyster Women's Association wins prestigious UN Equator Prize
2012 – co-management plans in The Gambia allocate exclusive use rights to artisanal sole fishery stakeholders and to the TRY Oyster Women's Association, a civil society group of marginalized women shellfish harvesters; this action heralds a "first" in fisheries rights
2011 – CRC uses its renewable energy lessons learned from the Rhode Island Ocean Special Area Management Plan to help the state lead the Rhode Island Renewable Energy Siting Partnership to provide guidance for coastal communities considering implementing onshore wind projects
2011 – USAID Philippines provides combined landmark funding from their Office of Health and their Office of Energy, Environment and Climate Change to scale-up integrated Population, Health and Environment (PHE) approaches in the Verde Island Passage and Danajon Bank, two key bio-regions in the Philippines
2011 – CRC receives $11.5 million for a five-year sustainable fisheries project in Senegal, adding a third West Africa Country to the CRC portfolio
2010 – The Rhode Island Ocean Special Area Management Plan is approved, with CRC helping to put Rhode Island in the "vanguard" of a collection of states practicing marine spatial planning as a means of protecting and enhancing ocean resources, including fish stocks and offshore wind power
2009 – CRC receives $15 million from USAID for coastal management and fisheries reform in Ghana and The Gambia — CRC's first-ever work in the West Africa Region
2009 – CRC publishes its handbook on governance of Large Marine Ecosystems
2009 – CRC publishes Guidebook for Development Planners on adapting to coastal climate change; CRC begins applying the guidance in its own projects and sharing with practitioners in training worldwide
2008 – CRC is a key contributor to Increasing Capacity for Stewardship of Oceans and Coasts: A Priority for the 21st Century published by the National Academies of Sciences
2008 – CRC is awarded an innovative PHE project that addresses the linkages between population pressures, human health, and environmental health
2007 – Indonesia passes the national Coastal and Small Island Management Act after CRC provides extensive support on its content and the public consultation process
2006 – In Thailand, CRC helps to establish village micro-savings and credit schemes to help families recover post the 2004 Tsunami; the system is sustained long after and is incorporated in the country's National Savings and Credit system
2006 – Disaster management plans prepared for several villages in southern Thailand following the 2004 Indian Ocean tsunami and the methods used become the national model for coastal disaster management
2006 – CRC helps to establish a museum in a Thailand district Learning Center that shares villagers' personal stories on the tsunami, and which serves as a remembrance on the 2004 tragedy
2006 – CRC helps Rhode Island create urban coastal development regulations that enable the state to work with businesses to undertake development within urban areas while also protecting and enhancing habitat along miles of commercial waterfront property.
2005 – CRC facilitates development of state regulations for the urbanized, shellfish-rich Greenwich Bay to ensure a plan is in place for installing sewers to decrease water pollution
2005 – CRC is a major contributor to the Handbook on Analysis of Governance Responses to Ecosystem Change published by the Land Ocean Interactions in the Coastal Zone
2005 – CRC and the University of Hawaii-Hilo assist women reef gleaners to culture the first ever half-pearls in Zanzibar, which later proves a viable and lucrative livelihood for several of the women entrepreneurs
2004 – For the first time, the issue of HIV/AIDS is added to the gender and population dimensions and integrated into coastal conservation initiatives in Tanzania
2004 – URI is awarded a USAID Cooperative Agreement to provide leadership and support to developing countries on integrated coastal management, sustainable fisheries and responsible mariculture
2004 – CRC launches a rehabilitation program in Thailand to help villages recover from the Indian Ocean Tsunami
2003 – Through a trusted relationship with Aquidneck Island, CRC helps island municipalities develop and implement the Aquidneck West Side Master Plan — a regional plan to guide use of the coastal area's economic, environmental and social resources, including surplus U.S. Navy property
2003 – In Mexico, CRC assists with adoption of a bay management approach that coordinates two municipalities and state and national governments while achieving both development and conservation goals
2003 – In Mexico's Xcalak Marine National Park, CRC designates 18,000 hectares as "protected" for valuable reefs and fisheries — an effort that links community visions, engages various sectors and coordinates with adjacent land use growth corridors
2003 – The Tanzania National Seaweed Development Strategic Plan is adopted
2002 – North Sulawesi Province in Indonesia adopts legislation delegating various levels of coastal management authority to coastal communities and scales-up pilot community-based marine protected area demonstrations to over two dozen villages
2000 – The Tanzania National Integrated Coastal and Environmental Management Strategy is adopted
1999 – CRC publishes "A Manual for Assessing Progress in Coastal Management"
1996 – CRC's director chairs the report "The Contributions of Science to Integrated Coastal Management" endorsed by the United Nations' Joint Group of Experts on the Scientific Aspects of Marine Environmental Protection
1994 – The Sri Lanka Cabinet endorses Sri Lanka 2000, a far-reaching strategy for a comprehensive coastal governance program
1994 – CRC and the US Department of State launch the International Coral Reef Initiative
1989 – CRC pioneers the training of harbor managers and municipal policies for reducing the impacts of coastal storms and erosion
1989 – Ecuador's coastal resources management program is formally created by presidential decree
1988 – CRC hosts the first conference on citizen monitoring of estuaries
1985 – CRC begins its partnership with the US Agency for International Development (USAID) and begins pilot projects in Ecuador, Sri Lanka and Thailand
1985 – CRC's Special Area Management Plan for Rhode Island's coastal lagoons is formally adopted as an initial expression of ecosystem governance
1983 – CRC simplifies and restructures policies and regulations governing shoreline development and zones the state of Rhode Island's marine waters
1978 – CRC leads an interdisciplinary team to advise New England's governors on managing the impacts of offshore petroleum production on commercial fisheries
1976 – CRC drafts the Rhode Island Coastal Zone Management Plan, one of the first to be approved by the federal government as meeting the requirements of the federal Coastal Zone Management Act of 1972
1970s – Strategies developed by CRC for fisheries and barrier beach conservation are formally adopted by the state
1971 – CRC begins its partnership as advisor to the newly formed Rhode Island Coastal Resources Management Council, an association that continues today