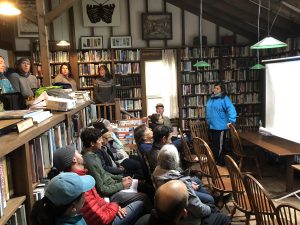 At CRC, there's a team approach to ensuring Rhode Island's decision-makers and planners have the knowledge, tools and hands-on expertise they need to build
their capacities for implementing adaptive measures to protect people
and property from flooding, a key impact of strong storms and sea level
rise. Through a variety of programs supported by public and charitable
funders, coastal managers Pam Rubinoff and Teresa Crean are providing
in-demand assistance to Rhode Island coastal communities in need, and
often to other places outside the Ocean State. For example, Pam
moderated a special Coastal Resiliency Symposium (October 16/URI
Narragansett Bay Campus) in October that was convened for the public by
U.S. Congressman James Langevin​. Pam is also playing a leadership role in a Business Resiliency partnership providing guidance to industries statewide. Teresa Crean shared coastal resiliency technical expertise on a recent study tour of Monhegan
Island, ME, that was sponsored by The Island Institute (Rockland).