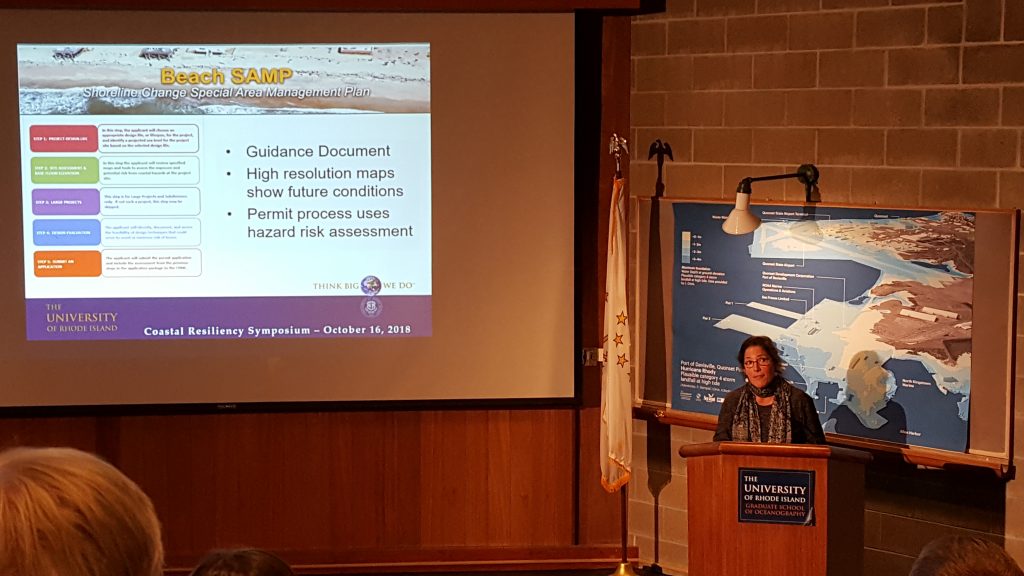 At CRC, there's a team approach to ensuring Rhode Island's decision-makers and planners have the knowledge, tools and hands-on expertise they need to build
their capacities for implementing adaptive measures to protect people
and property from flooding, a key impact of strong storms and sea level
rise. Through a variety of programs supported by public and charitable
funders, coastal managers Pam Rubinoff (above) and Teresa Crean (below) are providing in-demand assistance to Rhode Island coastal communities in need, and
often to other places outside the Ocean State. For example, Pam
moderated a special Coastal Resiliency Symposium (October 16/URI
Narragansett Bay Campus) in October that was convened for the public by
U.S. Congressman James Langevin​. Pam is also playing a leadership role in a Business Resiliency partnership providing guidance to industries statewide and working with civic leaders in Providence.  Learn more about some of her work here:
Last Fall, Teresa Crean shared coastal resiliency technical expertise on a study tour of Monhegan Island, ME, that was sponsored by The Island Institute (Rockland), and she traveled to Florida to learn more about their initiatives.  This past spring and summer she has met with communities around the State. Here's a link to a recent example:
READ: EcoRI Story on Watch Hill meeting.