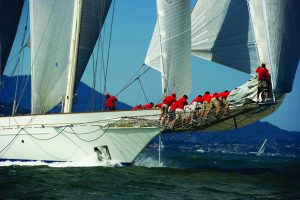 CRC offers innovative MSP training and tools through a research and capacity-building initiative that is strengthening the practitioner network.
Training products include:
Case Studies in Marine Spatial Planning Report Series: The series documents and shares lessons learned from three MSP examples in the United States (U.S). The Rhode Island case focuses on the Ocean SAMP; the San Francisco region study is a two-case analysis of U.S. Coast Guard-led waterways management initiatives; the State of Washington case explores the development of that Washington Coast Marine SpatialPlan. Executive summaries are available – Rhode Island, San Francisco, and Washington State– as is a summary of the MSP lessons learned.
---
Video Products and Live Chat: "Insights from Leaders: Practical Solutions on Ocean Planning"  captures the unique perspectives of practitioners gathered at the October 2015 International Marine Spatial Planning Symposium  and inform a Live Chat dialogue. CRC partnered with Open Channels  and Greenfire Productions on these projects. More practitioner perspectives on topics such as the intersection of MSP with offshore renewable energy, fisheries and climate change are featured in the Ocean Frontiers II: A New England Story for Sustaining the Sea and the  MSP Short Film Series 
---
MSP Curricula for college and graduate students: The curricula is designed to introduce college and graduate students to the practical challenges and opportunities of MSP. It comprises three teaching case studies and supporting materials that reflect CRC research conducted in Rhode Island , San Francisco  and Washington State  to document coastal management practice and lessons learned. The curricula features recent, real-world MSP experiences and connects them to broad MSP academic goals and practice.
---
2015 International Marine Spatial Planning Symposium: Sharing Practical Solutions: CRC regularly gathers the practitioner network together for tailored trainings and events to share ocean planning tools, techniques and experiences. The "2015 International Marine Spatial Planning Symposium: Sharing Practical Solutions/The 14th Annual Ronald C. Baird Sea Grant Science Symposium" engaged practitioners in sharing MSP experience and wisdom, examining successes and challenges, testing tools and approaches, and strengthening relationships.
---
The Rhode Island Ocean Special Area Management Plan: Managing Ocean Resources Through Coastal and Marine Spatial Planning: A Practitioner's Guide: The guide explores the example of the Ocean SAMP to assist practitioners in understanding how to design and implement a community-based coastal and ocean management initiative.
---
Identifying Marine Spatial Planning Gaps, Opportunities, and Partners: An Assessment : This report covers the specific kinds of skills and support tools needed by MSP practitioners and students, research and survey results, and gaps and opportunities voiced by MSP professionals, including coastal and ocean managers, government regulators, technical experts and students.
---
Ocean SAMP Storymap: This storymap developed by Christian Fox, while earning his URI Marine Affairs master's degree and working at CRC, explains the RI OceanSAMP–its content in processes–through a blend of text and visual components.
---
Worldwide Ocean Planning Community Learns from Ocean SAMP experiences: Rhode Island's efforts to pioneer ocean planning are front and center for a European Union (EU) project that developed several case studies, including one on the Rhode Island Ocean Special Area Management Plan (Ocean Plan) to examine the varied means by which coastal communities are managing, protecting and enhancing marine resources — many of them tied to food and jobs — for more people than ever before. CRC's Jennifer McCann served on the marine spatial planning project to incorporate Ocean SAMP lessons learned into the process, and described the it as an "honor to be part of this team." See the project, and find the Rhode Island case study HERE.