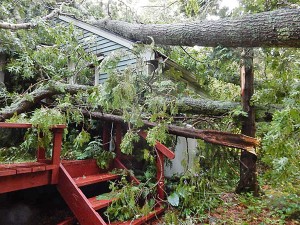 Thanks to the work of CRC and its colleagues at R.I. Coastal Resources Management Council, R.I. State Building Commission and R.I. Sea Grant, the Insurance Institute for Business and Home Safety is bringing its national Fortified Home program to Rhode Island. The building and remodel certification program requires upgraded standards to make structures more resilient to natural hazards, such as storm damage.
CRC's Pam Rubinoff has been on the frontlines of this work, not only as a coastal management professional but as a homeowner, and she is sharing her story to help get the word out about the Fortified Home program.
The topic of designing and building coastal homes that can withstand impacts from climate change, increased storminess and sea level rise is a timely one in Rhode Island.  Learn more about a Charlestown, R.I., architectural firm's approach to the issue.