"Just like fish, Big is Good; Small is Bad!"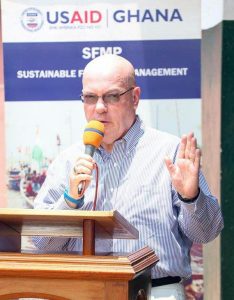 August 12, 2016 – The United States Ambassador to Ghana, Robert P Jackson on Friday, appealed to fisher folk in Elmina, an important fishing port in the Central Region, to maintain children in their home environment with their families and offer them good education instead of trafficking them into child labor-related activities that affect their health and ability to develop properly in life. Ambassador Jackson made the call when he visited the fishing community, which is a focal site of the USAID-funded Sustainable Fisheries Management Project (SFMP), implemented by the Coastal Resources Center (CRC) at the Graduate School of Oceanography, University of Rhode Island.
He interacted with fisher folk and anti-Child Labor Advocates in the Elmina port area and neighboring fishing communities where the project is implementing a behavior change communications campaign against child labor and trafficking in the fisheries sector. This work is supported by the US Government global Feed the Future Initiative.
Mr. Jackson was accompanied by the Mission Director of the United States Agency for International Development – USAID/Ghana – Andrew Karas and other US Government officials.
In 2016, Ghana has for two years in a row been classified as a Tier 2 Watch List Country by a US State Department as detailed in the most recent Trafficking in Persons Report; which concluded that the Government of Ghana does not meet all the minimum requirements for the elimination of trafficking in persons. Under US law, a classification for a third year in a row could result in significant reductions in US foreign assistance to Ghana.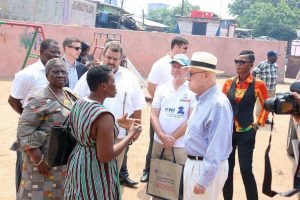 Consequently, the Ambassador's visit to the SFMP focal site was intended to learn more about this issue in the fisheries sector the related SFMP project interventions to combat this problem in the Central Region; a region noted as source communities for child recruitment into fisheries-related child labor and trafficking activities.
The Chief of Party of the project, Dr. Brian Crawford, who is also a senior manager at CRC, noted that child labor and trafficking in fisheries had worsened due to declining fish harvests and increasing poverty in coastal fishing communities where there are hardly any other viable forms of livelihoods. "Female-headed single-parent households with large families are most vulnerable to child labor and trafficking activities; and many parents give their children away to others for a fee, oblivious to the maltreatment meted out to the children", noted Dr. Crawford. Many of these children are forced into dangerous fisheries labor practices and are not kept in school, which is illegal under Ghana law.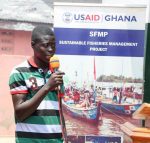 Participants in the visit, organized by the Central and Western Region Fishmongers Improvement Association, included child labor and trafficking victims, who have now become advocates as a result of the project intervention, narrated life threatening experiences as victims and related success stories after benefiting from Advocacy Training on child labour and trafficking.
"As it is with fish, so it is with children. Big is Good; Small is Bad! Just as we should not harvest the juvenile fish, so must we leave children in their environment and homes with their families to enjoy education, and so on; so they can develop well instead of sending them away into child labor", stressed Ambassador Jackson.