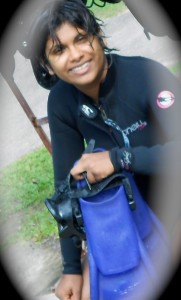 When the United Nations Nippon Foundation of Japan Fellowship Programme names its fellows every year, the organization chooses the research institution placement for each recipient. However, when Zahidah "Zaidy" Nisa learned she had been awarded a marine/ocean research fellowship in early 2014, she requested URI, and the foundation honored her request.
Zaidy, an environmental management specialist attached with the Ministry of Agriculture, Lands, Forestry, Fisheries & Environment, Government of Grenada, sought to pursue her studies at URI because of the small-scale fisheries expertise found at the Graduate School of Oceanography's Coastal Resources Center (CRC). While Nippon fellows have come to URI before, this is the first time CRC has hosted a fellow.
"I wished to take this opportunity to work with experts and field practitioners in small-scale fisheries management in poverty alleviation in developing states, and in particular, small Islands," Zaidy said. "Through my network of mentors and advisers in this field of work, I was informed about CRC and was put in contact with Brian Crawford (then interim director of CRC). I shared my research interest, and he agreed to act as my adviser for the fellowship."
Zaidy met Crawford in early 2014, before arriving at URI, when he was a panelist at the 15th meeting of the Informal Consultative Process on Oceans and the Law of the Sea (ICP): The role of Seafood in Global food security. "This gave me an opportunity to meet with him at the UN and discuss my research in detail," she said.
Her interests were a perfect fit with CRC's ongoing international marine and coastal initiatives, including current fisheries projects as they relate to poverty and food security in Malawi and Ghana in Africa and previous work in Latin America and Asia.
Arriving at CRC during the summer, Zaidy pursued fellowship research focusing on the recent adoption of the UN Food and Agriculture Organization's International Voluntary Guidelines (SSF-VG) for Small-scale Fisheries in the context of Food and Security and Poverty. Her thesis explored the potential for partnerships to share the responsibility for the implementation of SSF–VG via regional and national networks in Small Island Developing States. In her research, she specifically looked at functions of the Caribbean Network of Fisherfolk Organizations and the Locally Managed Marine Area network alongside the network functions recognized in the SSF-VG. Zaidy has been involved with both networks over the years.
Originally from Fiji Islands, Zaidy received her bachelor of science degree from the University of the South Pacific and her master's in environment management and development at Australian National University. She worked in the field of coastal fisheries management and livelihoods in the South Pacific region for eight years before moving to the Caribbean. There, she has been working on Marine Protected Areas Governance and the strengthening of fisher organizations and networks with The Centre for Resource Management and Environmental Studies, University of West Indies.
"During my time at CRC I was able to engage and spend time with practitioners working in Asia and West Africa Region and got exposed to the fisheries management and governance issues, management models and lesson learned from their work. This has helped me to learn about a new region. I also learned social network analysis tools, which are about mapping and measuring of relationships and flows among people, groups, organizations and information/knowledge processing entities," she said. Being able to create a visual map of networking efforts and information flow in relation to small-scale fisheries will help her in monitoring of the effectiveness of her networking efforts.
Zaidy concluded her fellowship at CRC in December and returned home to Grenada where she will continue her research on the ground through her position with the Government of Grenada.
The UN-Nippon Foundation fellowship program began a decade ago as a way to offer opportunities to mid-level professionals and government officials from developing states to pursue advanced education and research in ocean affairs, law of the sea and related marine science disciplines in support of better marine and ocean management. The UN's Division for Ocean Affairs and the Law of the Sea (DOALOS) of the Office of Legal Affairs administers the nine-month fellowships, which begin with three months of research and training at DOALOS headquarters in New York followed by six months of research and study at a partner institution.