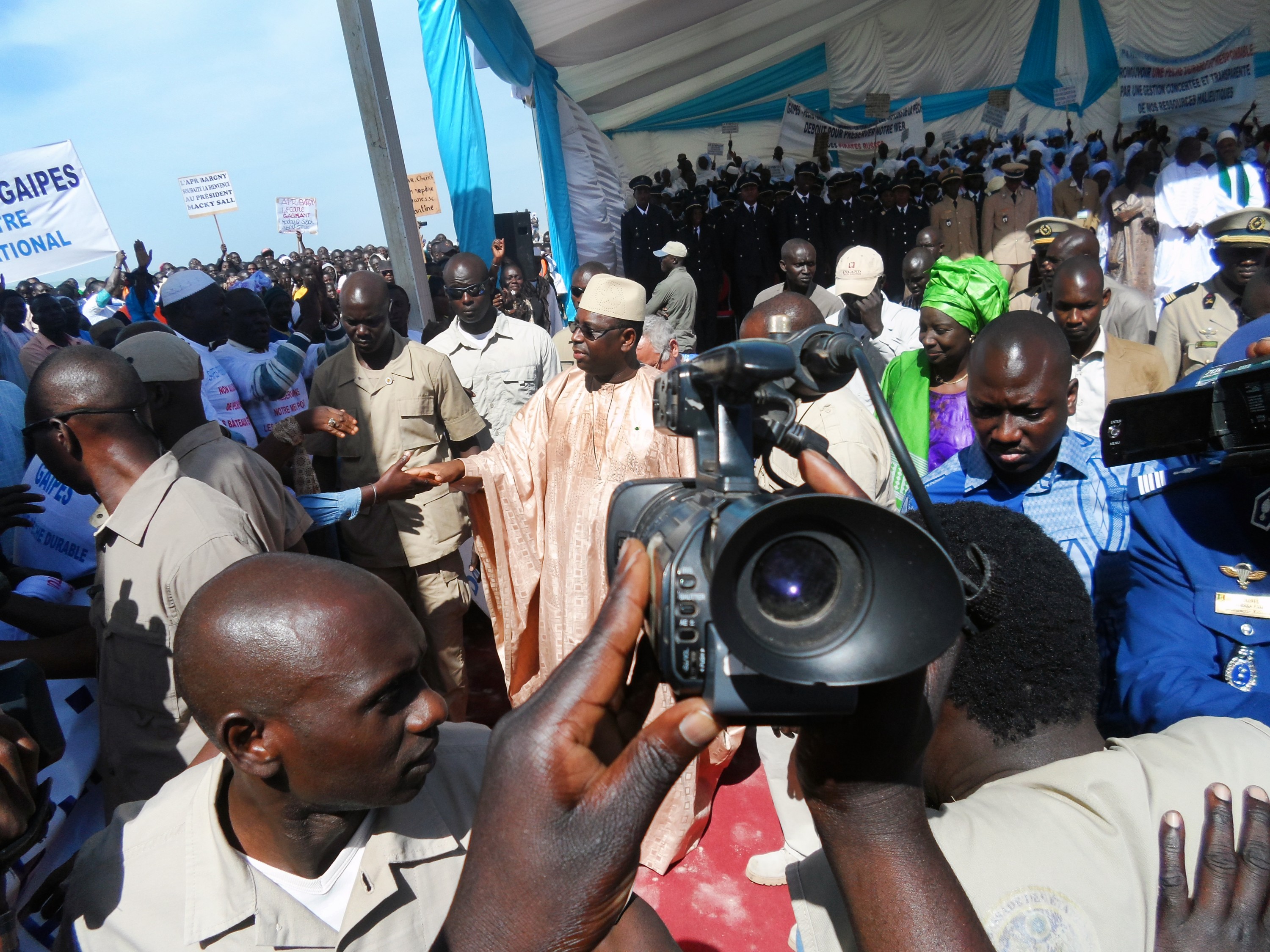 The president of Senegal visited the community of Cayar, where CRC leads a fisheries project, to pledge $200,000 to support women fish processors and wholesalers in that community as well as in three others. CRC's USAID/COMFISH Project works in all four communities—the four largest fishing sites in Senegal—supporting efforts to protect the fishery while modernizing processes and infrastructure and empowering women to improve their lives.
President Macky Sall also used the occasion to emphasize that illegal, unreported and unregulated fishing in Senegalese waters had reached crisis proportions and pledged to take several steps to address the problem. His announcement follows the Senegalese Navy's seizure of a Russian fishing vessel, the Oleg Naydenov, in the nation's exclusive economic zone in early January. Senegalese officials cited a CRC-produced report on the impact of illegal fishing when discussing the seriousness of the violation. Moscow has since paid $1 million (750,000 euros) for the release of the trawler.
President Sall pledged to strengthen the surveillance means of the Senegalese Navy, freeze all fishing licenses with foreign fishing fleets, and revise the national fishing code to allow for current fisheries realities. He also has asked his fisheries Minister to prepare a more stringent bill against illegal fishing by April of this year. Fisheries play a key role in the social and economic life in Senegal. The industry employs about 17 percent of the Senegalese working population—about 600,000 people—and provides 75 percent of the population's protein needs. It also contributes up to 12.5 percent to the primary sector GDP.
Cayar was chosen for the visit in part because it is regarded as a demonstration site for the development of a fisheries collaborative-management plan, a key focus of the USAID/COMFISH Project. During the President's visit, a community spokesperson noted USAID/COMFISH's significant contribution to collaborative management of fisheries resources in Cayar and other fish landing sites. The Project also has helped women fish processors to be better organized, to develop a Code of Conduct for the processing trade including agreement not to purchase and process juvenile fish, and to participate in functional literacy and leadership classes to improve their management and organizational skills.
President Sall also promised to provide 65 refrigerated trucks to local fishermen, to set up a social fund to support them in the event of a disaster and to build a high school for the community.