The University of Rhode Island's Coastal Resources Center (CRC) has produced an online learning tool this summer that will have an immediate impact. PREP-RI (Providing Resilience Education for Planning in Rhode Island) presents an overview of issues in coastal resilience, options for how to achieve it, and solutions being implemented across Rhode Island. Municipal officials and professionals engaged in development along the coast now have a simple, direct, and self-paced means to learn about the impacts of climate change, and how to help their communities prepare and adapt. PREP-RI is a six-module series of lectures covering climate change in Rhode Island, flooding, infrastructure impacts, mapping tools, stormwater, and adaptation. The course delves into such concerns as the rising sea levels and stronger storms that will impact so many Rhode Island homes and enterprises.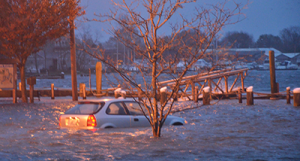 There is wide-spread agreement that simple, well-informed policies, regulations, and practices can play a key role in long-term strategies to reduce exposure to the risks. The effort begins with education.  And that's where PREP-RI comes in. It introduces the relevant science within the context of community-planning and examines ways in which municipalities are getting out in front of the threats. Pamela Rubinoff, project manager of PREP-RI at CRC says, "The project shares the collective wisdom of Rhode Island's most informed researchers and strongest practitioners in coastal resilience strategies. It as been a real pleasure to work with the region's best minds on this topic. Publishing their knowledge to benefit the entire state has made our efforts all the more worthwhile."
While PREP-RI is teaching and training local board members and professionals in community planning and management, it's raising the bar for thoughtful policy- and decision-making to achieve coastal resilience locally and statewide. PREP-RI is freely available to all (check it out!) and provides essential science and training to anyone working in community preparedness and development.  Emergency response and management personnel as well as business leaders in industries such as construction, marinas, property insurance and real estate can benefit. PREP-RI is a skills and knowledge builder that will add to the state's capacity to develop safer, more resilient, coastal communities.
PREP-RI, sponsored by the State of Rhode Island, was produced by CRC in cooperation with the Narragansett Bay Estuarine Research Reserve. Four state agencies—the Department of Environmental Management, the Coastal Resources Management Council, the Division of Planning, and the Rhode Island Emergency Management Agency— production of PREP-RI. Professionals and practitioners from several municipalities advised on the course material, structure, and style of delivery.
For their part, state officials endorse the content of PREP-RI and are encouraging municipal partners to take the course. CRC's certificate of completion testifies that the individual has a basic knowledge of issues and opportunities, and is an informed voice in the state's forward-thinking community of development planners, regulators, and enterprising citizens.