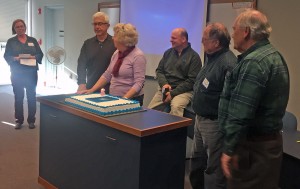 From offshore wind farms to underwater archaeology, CRC and its partners across GSO, URI and the state shared new research resulting from the Rhode Island Special Area Management Plan (Ocean SAMP), which celebrated five years of comprehensive and collaborative work during a stakeholder meeting March 29 at URI's Narragansett Bay Campus.
The Ocean SAMP project received approval in 2010 and is enabling the state to learn more about Rhode Island's offshore waters. By prioritizing public input and stakeholder engagement, the Ocean SAMP seeks to contribute to a regional effort to manage the resources of ocean waters. The R.I. Coastal Resources Management Council (CRMC) initiated the project in partnership with GSO. CRC and Rhode Island Sea Grant facilitate the SAMP process.
The Ocean SAMP is is a model ocean plan for the nation, according Betsy Nicholson, Northeast regional director, Office for Coastal Management for the National Oceanic and Atmospheric Administration (NOAA) . Five years in, the program has proved to engage stakeholders and increase knowledge of the study area by 50 percent according to CRC's Director of U.S. Coastal Programs and Rhode Island Sea Grant Extension Leader Jennifer McCann.
The Ocean SAMP played a significant roll in engaging community members in conversations regarding the five-turbine Block Island Wind Farm, a pilot project on track to be operational by late 2016, according to Aileen Kenney, vice president of permitting and environmental affairs for Deepwater Wind for Deepwater Wind, which is building the wind farm. Construction began last year, and the foundations for the turbines are in place with installation of the towers and turbines slated for August..
The offshore wind farm will be the first in the United States, and is expected to reduce Block Island electric rates by an estimated 40 percent according to Deepwater Wind. "I think doing things like [the SAMP] has helped Rhode Island become a leader in renewable energy," Kenney said.
Commercial fishermen were some of the primary stakeholders concerned about the impact of the offshore wind farm. Industrial fisherman Fred Mattera admitted though he has concerns about the wind farm, outreach from the Ocean SAMP helped him feel involved in the process. "It's happening in the industry's back yard," Mattera said. "It's a difficult, bitter pill for [fishermen] to swallow." Mattera credited Deepwater Wind and the Ocean SAMP for opening transparent lines of communication between fishermen and developers. "From someone that's had a lot of reservations, I'm impressed with what they've done so far," he said.
One of the questions the wind farm raised was how the turbines would affect local species. URI College of Environmental Science professor Peter Paton and his team tagged and tracked 25 piping plovers, a bird frequently seen on Block Island. Data Paton collected indicate that less than 10 percent of the birds fly under an elevation of 300 meters, which would keep them above the 270-meter tall turbines, he said.
The Ocean SAMP's conservation efforts extend beyond the Block Island Wind Farm project, however. GSO professor John King has been conducting an underwater archeology project to identify — without disturbing — areas of the coastal shelf that, 15,000 years ago, according to oral history, were dry land occupied by the Narragansett Indian Tribe. Part of his project has been to engage and educate local tribal people in the process of identifying sacred ground so they can take part in dialogue to protect these areas.
GSO professor Jeremy Collie has also been conducting underwater research through the Ocean SAMP. His SAMP work focuses in part on offshore lobster populations. By using ventless traps that allow him to survey juvenile lobsters and bycatch species, he has tracked data that indicate a healthy population with a range of sizes. Collie also found that a common shell disease is having less of an impact on offshore lobster populations in the test site than on than coastal populations. In addition, the CRC has two URI graduate students, Nicole Andrescavage and Christian Fox, working to update the SAMP so it is a living document. "This is your document," Fox said to stakeholders. "It belongs to you as much as it does to the state." The students have tracked changes in recreation and tourism in Rhode Island's coastal areas as part of the SAMP.
As research enabled by the Ocean SAMP uncovers more data and information of Rhode Island's offshore waters, thoughts for a Narragansett Bay SAMP may be brewing.
"The irony of all this is that the Ocean SAMP is more advanced and protective of our offshore waters than we are of our bay waters," Grover Fugate, executive director of the CRMC, said. "We need to provide the same level of protection for our inshore as we do our offshore."
— Allison Farrelly
The celebration of five years of Ocean SAMP also garnered some media coverage. Check out the stories in The Westerly Sun and The Narragansett Times!