…COASTAL RESOURCES CENTER, FOUR OTHERS SIGN AGREEMENT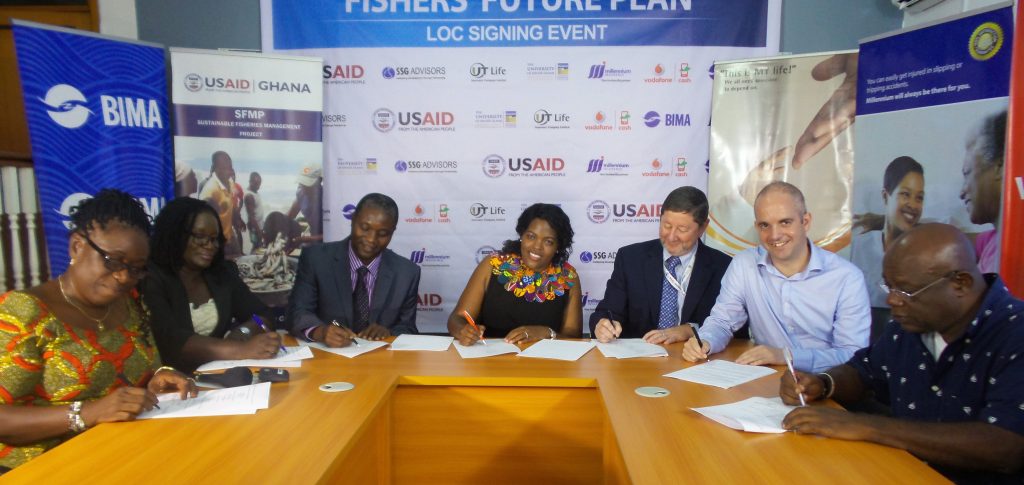 The Coastal Resources Center of the University of Rhode Island and four other organizations signed an agreement Tuesday, October 11, 2016, in Accra to provide life micro-insurance for fishing communities in Ghana. This initiative is under the auspices of the USAID/Ghana Sustainable Fisheries Management Project, a US Government Feed the Future Initiative. The initiative also forms part of a commitment to transform and develop Ghana's Fisheries and Agricultural sector. It is also aimed at supporting the Sustainable Development Goals (SDG) for poverty and hunger reduction.
The micro-insurance product, called the Fishers' Future Plan, is designed for the 200,000 fishermen engaged in fishing and the 27,000 women involved in fish processing and marketing in Ghana.
SSG Advisors is the project implementing partner responsible for facilitating this initiative, in partnership with Millennium Insurance, UT Life, Vodafone Ghana and BIMA. The product will contribute to quality of life of fishing communities by providing increased economic and social security benefits.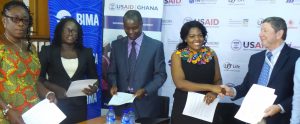 The signed letter of collaboration describes the roles and responsibilities of the partners in developing and marketing this product to the fishing community. Key features of the product will include:
A savings-linked life micro insurance product with permanent disability embedded. It will cover the life of the insured and provide a benefit if the insured dies or suffers from permanent disablement as a result of an accident during the duration of the policy.
The policy also offers the policyholder a once-a-year opportunity to withdraw up to 30% of the total annual contribution which can be used as a pay out during any potential closed fishing season, and;
At maturity, the proceeds payable is equal to the accumulated fund as of the maturity date.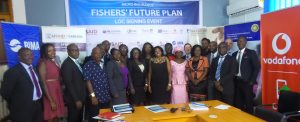 Vodafone Ghana's role in the partnership includes deployment of its mobile money platforms for collection of premiums and claim payments. BIMA, a world leading micro-insurance and health services provider, will support marketing and administration of the policy for those who purchase the plan. The product will be underwritten by Millennium Insurance and UT Life Insurance. SFMP, the facilitator of the partnership will also contribute to the education and sensitization of fisher folk on the insurance initiative.