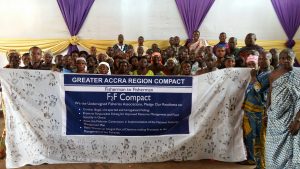 Ghana's fisheries sector is a major contributor to socioeconomic development and food security in the country, yet poverty remains high in many fishing communities as the sector continues to experience a growing number of challenges in managing its marine resources, particularly as fish stocks and catches decline.
To help reverse stock depletion, the Fisherman-to-Fisherman Consultative Dialogue, sponsored by the Ghana National Canoe Fishermen Coun-cil with the support of the USAID Sustainable Fisheries Management Project, is playing a sup-porting role in this grassroots effort.
The dialogue is encouraging fisherfolk to con-front some of their communities' deep-rooted problems such as over-fishing, weak enforcement, and non-compliance with fishing regulations that reduce the country's total fish catch.
Since 2016, regional dialogs have convened across Ghana's coastal communities. Over 170 Chief Fishermen from the Ghana National Canoe Fishermen Council and 120 women leaders from the National Fish Processors and Traders Association have participated.
Discussions at the Consultative Dialogues centered on measures to reduce the excessive pressure on fish stocks, ensure that stocks within Ghana's fisheries are exploit-ed within biologically sustainable levels, and ensure that new legislation can protect the nation's fisheries in the long term.
Fisherfolk across the four coastal regions have unanimously agreed to an additional fishing holiday in Ghana on Sunday, and they have embraced traditional practices aimed at promoting responsible fishing activities and increasing fish catch. Moreover, fish processors (predominantly women) have built consensus that they must reject illegally caught "bad fish" and report those who use chemicals to catch fish.
To support law-enforcement efforts and spur implementation of the National Fisheries Management Plan, Chief Fishermen in Volta Region have requested that the Fisheries Commission authorize them to make arrests where necessary. The request fol-lows an occasion when those Chief Fisher-men reported thirteen fishermen to the marine police for arrest and prosecution for practicing illegal light fishing.
These positive developments represent a grassroots effort to confront the crisis of fish-stock depletion in Ghana's waters. As indicated by the USAID Sustainable Fisheries Management Project's fisheries specialist, Socrates Apetorgbor, "This initiative, with support of fisherfolk, will aid the Fisheries Commission in carrying out its substantial regulatory responsibilities."