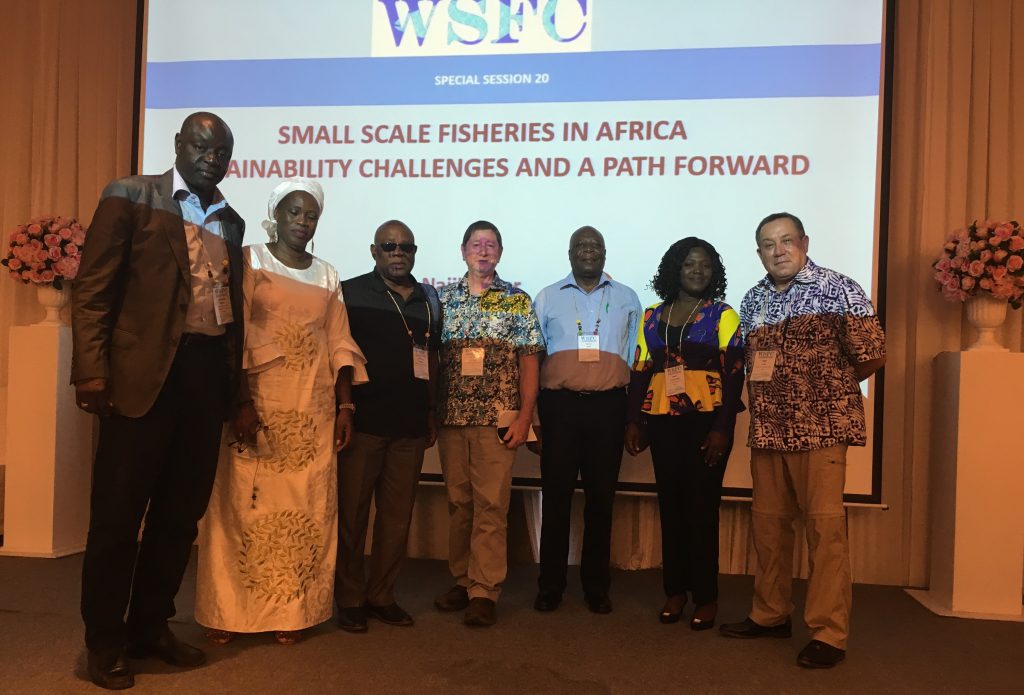 The University of Rhode Island's Coastal Resources Center in collaboration with key fisheries stakeholders from Senegal, The Gambia, Ghana and Malawi shared lessons learned and challenges in the artisanal fisheries in Africa at the 3rd World Small Scale Fisheries Congress in Chiang, Mai, Thailand. The topics of discussion included regional experience with fisheries co-management, food security, IUU fishing and maritime security, gender mainstreaming, and collaborative action research.
Najih Lazar from CRC chaired a panel of experts in a special session entitled "Small Scale Fisheries in Africa, Challenges and a Path Forward". The Panel included Dr. Brian Carwford from URI-CRC, Abdoulaye Samba from Senegal, Fatou Mboob from the Gambia, Nana Jojo Solomon and Sheila Fynn-Korsah from Ghana and Dr. Daniel Jamu from Malawi.
The Conference was attended by more than 400 participants from 65 countries. The Conference re-enforced the claim that small-scale fisheries have yet to fully realize their potential to significantly contribute to sustainable development and the attaining of the United Nation Sustainable Development Goals (SDG). In spite of their economic, social and nutritional benefits and societal and cultural values small-scale fishing communities often face precarious and vulnerable living and working conditions. There are various factors contributing to these conditions including insecure rights to land and fishery resources, inadequate or absent health and educational services and social safety nets, vulnerability to natural disasters and climate change and exclusion from wider development processes due to weak organizational structures and representation and participation in decision-making. The 2018 Conference identified several critical ways forward in securing sustainable small-scale fisheries that integrate social, cultural and economic development, address resource access and use rights issues guided by human rights principles, and recognize the rights of indigenous peoples. The Conference highlighted the need for nations to promote the Small Scale Fisheries Guidelines for responsible fishing developed by the Food and Agriculture Organization (FAO).
The Congress was a means to consult with international stakeholders, to identify good practices in the governance of small-scale fisheries, as well as to share and expand upon key lessons learned by the international network known as "Too-Big-To-Be-Ignored" for Fisheries Sustainability, Poverty Alleviation and Food Security.
For more information on the 3rd WSFC https://toobigtoignore.wixsite.com/3wsfcongress