Mungia Mgaza has been eating sea turtles since he was a little boy. Today, this father of five would not think of making a meal of this endangered species. He wants to do his part—and is encouraging others to do the same—to ensure these marine creatures are around forever.
While it's true some sea turtles are caught as accidental by-catch, not all are caught by mistake. Many Tanzanians simply like to eat turtle meat and eggs. Apart from considering them a delicacy, they believe eating them will increase their own life expectancy and cure male impotence.
Thanks to the United States Agency for International Development-funded Pwani Project led by the Coastal Resources Center at the University of Rhode Island and its local partner, Sea Sense, there are changes afoot in the attitudes and behaviors of villagers living and working along the coastline of eastern Tanzania. Here, in villages just north of Saadani National Park, few individuals continue to eat turtle meat or eggs. Sea Sense has been hard at work promoting community-based conservation, including forming a village network of community Conservation Officers. Sea Sense is training these officers in sea turtle conservation and monitoring and protection of nests. They are also training fishermen how to release sea turtles caught in their fishing gear and how to avoid catching them in the first place. These and other community-implemented activities to stop illegal fishing of turtles are bearing fruit. Since 2009, local communities have recorded a progressively increasing number of sea turtle nests and hatchings.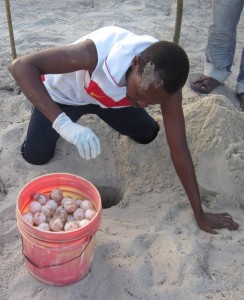 Mgaza, who is also the Ushongo Village chairman, is proud of the fact that today nests are protected and the eggs are hatching successfully rather than being poached, inundated by the tide, or otherwise destroyed—all frequent occurrences before his village got involved in sea turtle protection. Most of the eggs that hatch on the Ushongo beach have been relocated from Maziwe Island. Because Maziwe Island is inundated by water on a regular basis, all eggs laid there fail to hatch unless they are relocated. Following the IUCN Marine Turtle Specialist Group relocation protocol—which allows eggs to be moved only when it is the single viable option—patrol teams from Ushonga visit Maziwe regularly to relocate the eggs found on the island. Because Sea Sense has provided the patrol team with the skills and understanding needed to safely move the nests, the relocated nests have the same hatching success as those laid by the turtles, themselves.
The actions of Mgaza and his fellow villagers are benefitting both the local ecology and the local economy. Local businesses charge a fee to visitors who come to see the sea turtles hatch and return a percentage of those fees to the village for community development projects. Mgaza earns money through a Sea Sense incentive program that offers a small stipend to individuals like him who sight, protect, and monitor nests. He also organizes tours for the visitors, many of whom give him a small monetary "gift" as well. In Mgaza's words, "The small tips and fees add a lot to the meager income I get from my job as a fisherman. I can now comfortably purchase school uniforms, pay school fees and make necessary school contributions for my two daughters." This, indeed, is quite a blessing in a place where the majority of the population survives on less than US $1 per day.
Mgaza and his community are clearly part of a win-win for all—communities, businesses, families, individuals, and sea turtles too!