This May a study tour was conducted to enable oyster harvesters and farmers from Benin and The Gambia to share their experiences and advice with counterparts in Ghana.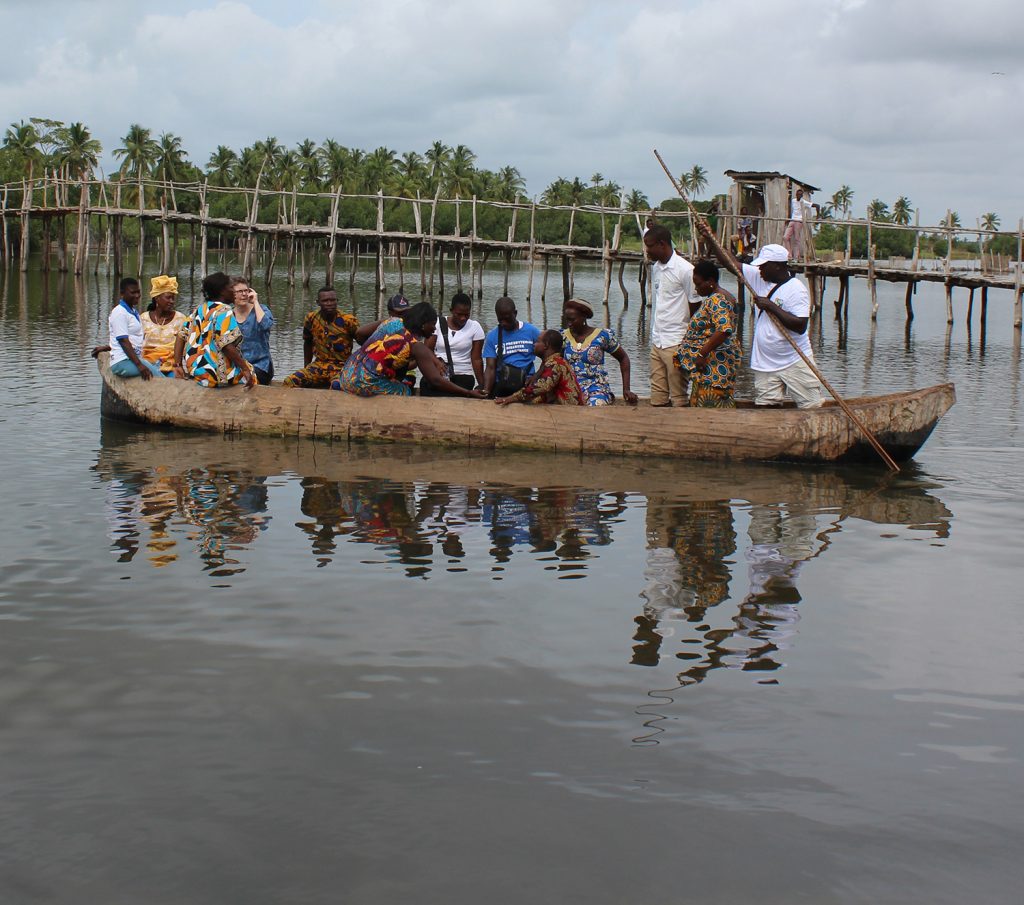 The Sustainable Fisheries Management Project (SFMP), funded by USAID and implemented by CRC, stresses a peer-to-peer approach to spreading knowledge within West Africa. The approach creates opportunities for continued learning, mutual support, joint initiatives and advocacy for sustainable management. Peer-to-peer information exchanges are also driving the formation of new networks of oyster harvesting communities and the associations that can represent and support them. Shellfishing—an often forgotten and "invisible" fishery—is becoming better recognized and valued for its economic and nutritional contributions.
The tour brought seven women, oyster harvesters and farmers in Ghana's Densu estuary and representatives from SFMP local partners, to Ouidah and Grand-popo, Benin to visit their peers. Organized by SFMP, the tour was facilitated by Karen Kent, a coastal manager at URI's Coastal Resource Center. Two members of TRY Oyster Women's Association, a trade organization in The Gambia, were also instrumental partners.
The Ghanaians found they'll return to their own communities with valuable knowledge to share: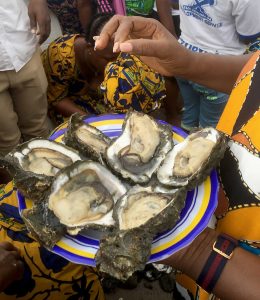 They were delighted to learn of new ways to maximize oyster growth and will identify opportunities to apply the new techniques.
In peer-to-peer discussions, women from Benin demonstrated the importance of removing grit from the final product and best practices for post-harvest handling and processing.
While forming and maintaining a trade association can be difficult, the Ghanaians heard that when diverse needs and priorities are taken into account, associations empower local communities to achieve sustainable resource management.
It was also clear that preservation and protection of mangrove ecosystems must be a high priority. Oyster harvesters and farmers have a pivotal role to play in stewarding this resource.
"All of our priorities and objectives for the study tour were achieved in full and we look forward to the many opportunities it has created for collaboration at all levels," said Kent.
These participants will help Ghana's estuaries become as successful as those in The Gambia and Benin.  The women are learning for and among themselves how to manage mangrove forests, to run a small business, and to advocate for the best practices and good governance that will protect their income. They're gaining support from many corners, including local and national governance, universities, and international institutions, and they're finding strength in numbers throughout West Africa.