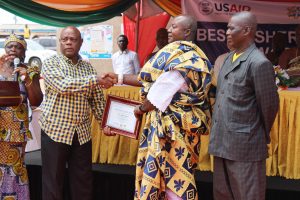 Michael Bumegbe, a fisherman from Keta District, Volta region is optimistic as he looks confidently into the future of his fishing business. "It's a major improvement for us all" says Michael as he observes how fishermen in his community have moved away from their old methods of fishing to more sustainable practices.
Like most fisher folks, Michael has benefited from series of training on best fisheries practices from Friends of the Nation under the USAID's Sustainable Fisheries Management Project and has been applying what he was taught to his business.
Today, Michael is one of the 18 recipients of the Best Fisheries Practices Awards from the USAID project that is intended to reward re-source users for the adoption of sustainable fishing practices as enshrined in the Fisheries Laws as well as for best post-harvest fisheries practices that allow fishmongers and processors to add value to their businesses. Since 2016, regional dialogs have convened across Ghana's coastal communities.
Over 170 Chief Fishermen from the Ghana National Canoe Fishermen Council and 120 women leaders from the National Fish Processors and Traders Association have participated.
Michael's success is born out of his determination to make a positive difference. Concerned about the unsustainable practices of fishing, he was the first to destroy his monofilament fishing net (which is illegal in marine waters) and caused his peers to follow suit. "My children schools fees and all family need depend on fishing "says Michael.
The training provided by SFMP's partners have not only increase awareness but also empower the beneficiaries to under-take leadership role towards addressing the challenges of unsustainable fishing practices across Ghana's coastal communities.
The awards scheme was instituted by the SFMP in partnership with the Ministry of Fisheries and Aquaculture Development and the Fisheries Commission to rebuild targeted marine fisheries stocks through the adoption of sustainable fishing practices and exploitation levels.
The efforts are in harmony with the Sustainable Fisheries Management Project's objectives which seeks to rebuild target-ed marine fisheries stocks, notably small pelagic fish important to local food security, through the adoption of sustainable practices and exploitation levels.