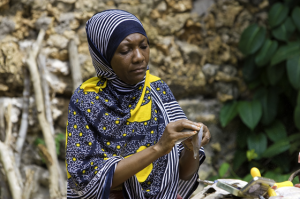 The Sustainable Coastal Communities and Ecosystems (SUCCESS) program's goal is to conserve coastal and marine biodiversity while improving the well being of coastal residents through the implementation of the Tanzania National Integrated Coastal Environment Management Strategy (ICMS). The Project assists the districts of Bagamoyo, Mkuranga and Pangani to advance from integrated coastal management (ICM) planning and testing to ICM implementation. It focuses on two landscape-seascape areas –- the Wami river basin, including the Sadaani National Park, Maziwe Reserve and the coastal seascapes in the Pangani and Bagamoyo districts; and the Mkuranga district bordering the Rufiji-Mafia-Kilwa marine ecoregion. The five-year project builds sustained governance capacity while securing tangible on-the-ground results focused on conservation and sustainable natural resource based livelihoods. Project results categories include:
The Tanzania Integrated Coastal Environment Management Strategy is mainstreamed into National Environmental Management Council and into related sectoral policies, laws and strategies and decentralized governance.
Landscape-seascape scale conservation is practiced in targeted areas through local level governance.
Increased and equitable benefits are being realized from expanded opportunities in sustainable, natural resource-based micro-enterprises specifically targeting HIV/AIDS vulnerable groups.
Gender equity and HIV/AIDS preventive behaviors promoted through communicating HIV/AIDS, environment, and equity messages.
The project emphasizes local actions that promote best practices – e.g., co-management for near-shore fishery areas, including the establishment of no-take conservation zones, and small-scale enterprise development in mariculture and tourism. The project also implements actions to mitigate the impacts of HIV/AIDS on biodiversity conservation in the Saadani National Park landscape-seascape area. Activities are nested within the management and action plans being implemented by districts, individual marine reserve and park authorities and river basin authorities.