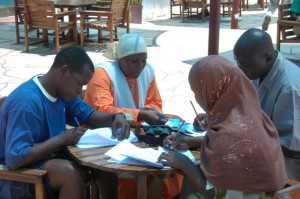 The Sustainable Coastal Communities and Ecosystems (SUCCESS) Program is a 10-year initiative of the CRC supported through a Leader with Associates Cooperative Agreement with the U.S. Agency for International Development (USAID). The program's first five years (2005 – 2009) focused on implementation of field activities in selected regions and countries with an emphasis in East Africa and Latin America. This was complemented by activities in capacity building, livelihoods and climate change adaptation. The original five-year award was extended for an additional five years (2009 – 2014) with three areas of emphasis — work that represents innovative models for replication in other USAID countries and regions around the world, as outlined below:
Continued development and implementation of a first-in-the-world certification program for marine protected area (MPA) professionals. Individuals who successfully complete the program and fulfill its requirements are certified as having met standards of education, knowledge, skills, experience and on-the-job performance in seven competency areas that have been defined by MPA and coastal governance experts as being critical to successful management of an MPA.
Continued development of coastal climate change adaptation tools and methodologies that will be formalized into training modules delivered in multiple regions (primarily SUCCESS regions) to coastal practitioners, governments, and donor agencies (including USAID Missions).
Continued development and application of learning and knowledge management of diversified livelihood strategies for residents of the coastal zone where such livelihood options are needed to reduce pressure on natural resources and overcapacity in small scale fisheries.