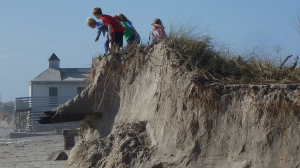 Coastal Resiliency Portfolio: Comprehensive, Collaborative Efforts Help Communities Adapt to Changing Coastlines 
The University of Rhode Island Coastal Resources Center provides a robust portfolio of projects for inspiring realistic, community-based resiliency to flooding and erosion, chief impacts of strong storms and sea level rise tied to climate change. The programs engage coastal communities, local and state decision-makers, government and private sector professionals, and practitioners and citizens in learning the science behind the changes, and in applying policies and practices to increase community flexibility to creatively adapt to climate driven coastal alteration.
The portfolio is diverse. For example, the Rhode Island Shoreline Change Special Area Management Plan (Beach SAMP) is a statewide effort to answer government requests for new data, tools and training sorely needed for making sound, science based choices about protecting communities from flooding and erosion, both today and in the future. Another project, the Aquidneck Island Resiliency Strategy, is a public-private partnership focused on helping the local municipalities of Newport, Middletown and Portsmouth – as well as Naval Station Newport – create a guiding document, or blueprint, for their specific island based resiliency goals. Still another effort, the Green Infrastructure Project, or GRIP, offers technical assistance to coastal communities looking to test, or pilot, the inclusion of natural materials and vegetation in coastal planning projects to buffer the effects of flooding and erosion. Throughout the portfolio, projects examine resiliency issues through the local lens, as CRC works with Rhode Island communities to tailor adaptive planning to their individual needs.