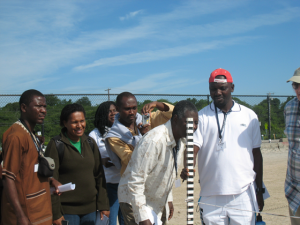 The Coastal Management Institute at the Coastal Resources Center is dedicated to building the next generation of coastal leaders. Effective coastal stewadrship requires changes in behavior at the societal scale. This in turn demands inspired leadership from a generation of professionals with a special combination of skills, knowledge and values. CRC sees the education of these agents of change as its most lasting contribution to coastal governance and management.
The Institute is built upon a strong foundation of more than 40 years of practical field experience and capacity building in the United States and internationally. Our flagship training course – Summer Institute in Coastal Management – started in 1991 and was offered every two years at the University of Rhode Island Narragansett Bay Campus. Professionals from more than 65 countries and 150 organizations have attended and joined the CRC alumni family. This experience, trust and reputation for excellence are now shaping our new Coastal Management Institute.
Alumni hold key positions in public and private-sector organizations and form a worldwide network of coastal professionals. Examples of companies and sponsoring organizations involved with the Summer Institute include the United States Agency for International Development, the United States National Oceanic and Atmospheric Administration, the Swedish International Development Cooperation Agency, the United Nations Environmental Programme; faculty or directors of centers at Universities in the Philippines, Fiji, Indonesia, the West Indies, Mexico, Tanzania, Canada; nongovernmental organizations such as Conservation International, The Nature Conservancy and the World Wildlife Fund; and consulting firms such as Chemonics International.
The Institute applies a full suite of capacity-building methods to support coastal leaders.