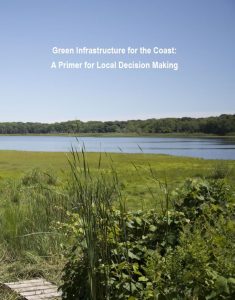 This booklet provides municipal officials, staff, and board members with insights on implementing green infrastructure projects, with special attention to coastal areas.  It answers ten key questions that arose during the development of conceptual designs for RI GRIP's three coastal green infrastructure pilot projects. The goal is to build a common foundation from which to move ahead with green infrastructure as a valued tool for coastal communities.
The booklet addresses these key questions are:
How is green infrastructure applied on the coast?

What are the benefits of implementing coastal green infrastructure?

What is an integrated design process and how does it enhance outcomes?

What are some key design considerations?

Why is planning for maintenance critical to the design process?

How do you start to frame decision making about green infrastructure?

What are the considerations for appropriate plant selection?

How do municipalities fund green infrastructure?

What are the barriers to adopting green infrastructure? what are the solutions?

Where can i get additional information and support?