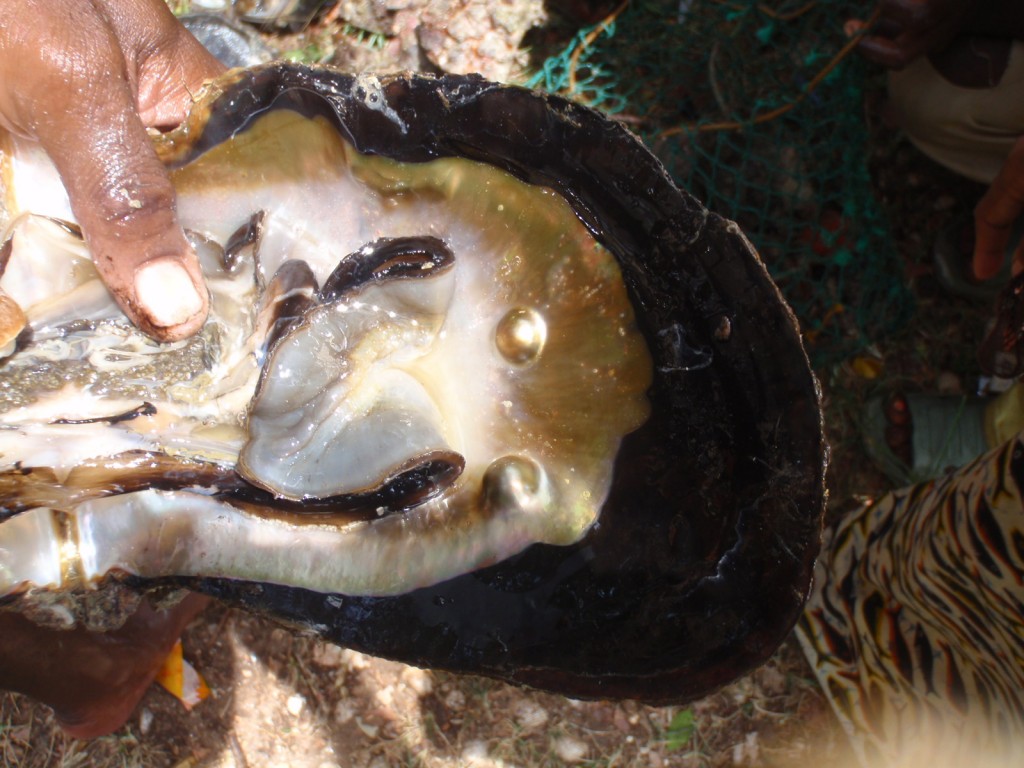 Women of the Fumba Peninsula, Zanzibar, have always depended on collecting clams, oysters, mussels and cockles for food and livelihood. However, uncontrolled harvesting led to a decline in bivalve populations. The pioneering efforts of Drs. Narriman Jiddawi and Aviti Mmochi of IMS helped to change this. They worked with women gleaners to find new ways to increase income and improve management of the natural marine resources.
First, Jiddawi and Mmochi worked with this group to produce and sell simple jewelry from seashells—doubling the monthly income of many of these women. Next, they trained the women (and some men) to cultivate half-pearls—a process of implanting a plastic nucleus in a live oyster shell and allowing the animal to cover it with nacre, creating a luminescent pearl. High quality half-pearls can sell for U.S. $40 each, creating the opportunity for these local entrepreneurs to increase their incomes. Additionally, half-pearl farming is particularly appropriate for remote and impoverished coastal villages because it uses simple methods, capital costs are low, and the thousands of tourists that visit the Swahili Coast annually provide a ready, high-end market for the final product.
After a year of experimentation, the Zanzibar group harvested 50 half-pearls, over half of which were of high enough quality to create jewelry. The group netted U.S. $2,000 in sales, and this initial success resulted in the spread of half-pearl farming to other communities along the Swahili Coast, including Mafia Island and Tanga.
The project's focus then turned to establishing additional small-scale commercial pearl farms, strengthening the entrepreneurial and organizational skills of the women's groups, developing marketing plans and taking steps to ensure the socioeconomic and environmental sustainability of these efforts. This required training in small business skills and entrepreneurship and environmental stewardship by U.S. individuals and groups. In turn the U.S. businesses and individuals learned how small businesses operate in the Tanzanian socio-economic and cultural context (coastal Tanzania is 97% Muslim, shaping how women-based businesses can operate) and how to adapt American practices to the realities of a developing country context.
Project Objectives and Expected Outcomes
The project contributed to Department of State ECA Bureau goals for the Africa region to:
– Promote entrepreneurial thinking, job creation, business planning, and management skills that will assist young African adults in launching business careers.
– Increase understanding of the links between entrepreneurial activity and free markets as well as the importance of transparency and accountability in business and government.
– Increase African and American participants' understanding of cultural influences on business
It also contributed to these goals by assisting in development of an ecological and economically sustainable small enterprise system for half-pearls in Tanzania. We envision a future of widespread, sustainable and profitable half-pearl farms and jewelry manufacturing, distribution and retail sales enterprises led by young adults thriving in coastal Tanzania.
The project objectives were to:
Assist current and future young adult, primarily female, half-pearl growers optimize production capacity to a commercial level, and increase product value by transforming the half-pearls into jewelry.
Provide U.S. experts with the chance to build the business skills of the young women and men involved in the Tanzania half-pearl enterprise; learn how the U.S. and Tanzanian business contexts and practices differ; and explore long-term business opportunities between the RI/U.S. jewelry industry and the half-pearl entrepreneurs of Tanzania.
Build a good citizenship ethic among Tanzanian half-pearl entrepreneurs for environmental stewardship in order to sustain healthy marine resources from which the raw materials for this industry depend by sharing selected U.S. experience of environmentally responsible entrepreneurship, citizen involvement in resource monitoring and management.
The exchange program will lead to the following outcomes.
Participants will:
– gain the conceptual and practical skills to establish sustainable small business enterprises
– be provided extension and entrepreneurship support by a multi-institutional resource group
– gain an improved understanding of U.S. business practices and the contextual and cultural barriers that exist in implementing these in coastal Tanzania
– learn how U.S. citizens engage in environmental stewardship—e.g. through volunteerism