CRC salutes women on our team around the world!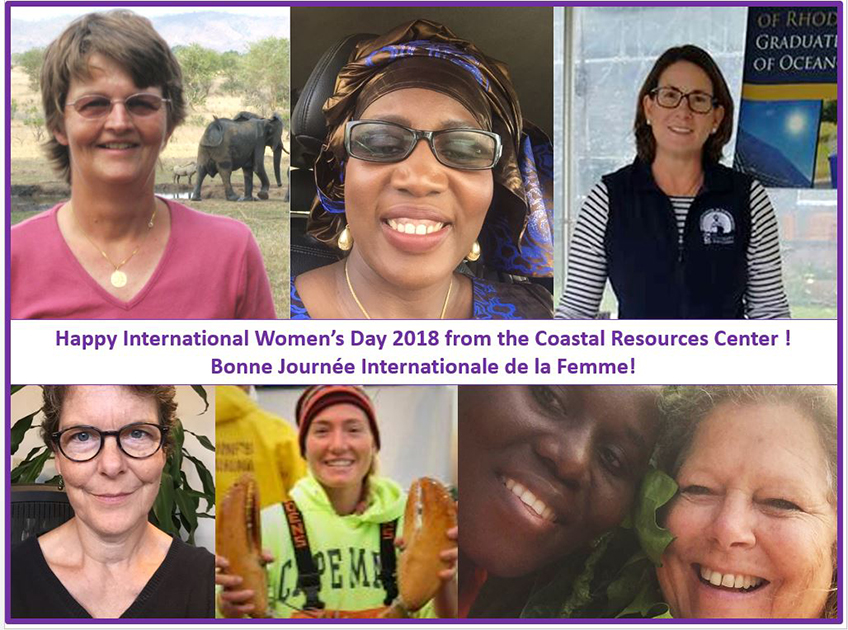 Clockwise from upper left:
Kim Kaine in Tanzania with the State Department Pearl Group. Kim takes care of administrative and financial tasks for the CRC's International team and centerwide including facilitating CRC's International Student and Visiting scholar Ambassador Program as well as facilitating logistics for CRC's International training events (workshops, study tours and meetings) in the US.
Khady Sané is the Chief of Party for COMFISH Plus in Senegal. Under her leadership, the implementation of Collaborative  fisheries Management through the strengthening of the main local governance body for fisheries – the Local Council for Artisanal Fishing  – has become an experience that is beginning to revolutionize the fisheries sector in Senegal.
Cathy Dwyer, Events and Logistics Specialist, representing CRC at the Graduate School of Oceanography Open House: Ocean Sciences for the Ocean State.
Cindy Moreau and Debbie Antwi, finance office from the Central and Western Fishmongers Improvement Association (CEWEFIA).  As a part of Cindy's role as International Portfolio Coordinator this is on a site visit to CEWEFIA in Cape Coast, Ghana.
Azure Cygler is a fisheries extension specialist for RI SeaGrant and CRC, working on the RI shellfish management plan, the first of its kind in the state.
Karen Kent, Senior Coastal Manager, celebrates that the Gambia sole Fishery Improvement Plan (FIP) is on-line and joining other FIPs on a global platform to track progress and engage investors in supporting sustainably managed fisheries, especially small scale developing country fisheries.