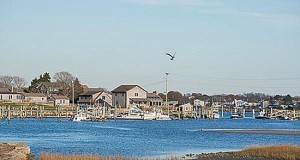 A series of educational programs about Rhode Island's salt ponds and their uses, particularly shellfish farming, continues March 30 with "Riparian Privilege: Legal Aspects to Living Along the Shoreline," presented by Dennis Esposito, adjunct professor at the Marine Affairs Institute and director of the Environmental and Land-Use Clinical Externship Program at Roger Williams University School of Law.
The presentation will be held from 5:30-7 p.m., Wednesday, March 30, at Cross Mills Public Library, 4417 Old Post Road, Charlestown, RI.
Refreshments will be served. RSVP to Azure Cygler at azure@crc.uri.edu.
This series is sponsored by Rhode Island Sea Grant and the CRC, in collaboration with Roger Williams University and the R.I. Coastal Resources Management Council, supported by a grant from the NOAA National Sea Grant College Program. For more information visit www.rismp.org