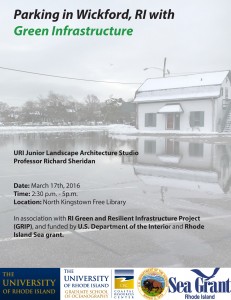 On Thursday, March 17, URI Landscape Architecture students will share their vision for re-imagining waterfront parking areas in Wickford, R.I., using green and resilient infrastructure techniques to address rising seas and storm impact.
They will present their design ideas for Town Dock, Brown Street Parking Lot and an auxiliary parking site adjacent to the Wickford Village center. The program runs from 2:30-5:30 pm. at the North Kingstown Free Library, 100 Boone St., North Kingstown, R.I.
This project is supported with funding from the RI Green and Resilient Infrastructure Project, led by CRC with funding from the U.S. Department of Interior and National Fish and Wildlife Federation and the Rhode Island Sea Grant College Program.
To learn more contact CRC Coastal Manager Teresa Crean at tcrean@crc.uri.edu.
or 874-6626.