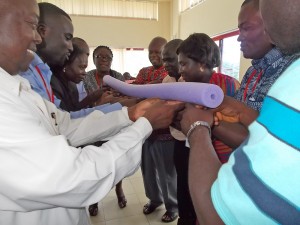 If a problem is systemic, then addressing it at identified critical points might be the best way to solve it. The URI Coastal Resources Center (CRC)-led Leadership for Fisheries Management program that recently concluded in Ghana, Africa, took that approach, both in and out of the classroom.
CRC, based at the Graduate School of Oceanography, and the College of the Environment and Life Sciences' Fisheries Center have come together for years to offer such programs on campus and across the globe. This 10-day Ghana course differed a bit in that it brought together two dozen participants from all parts of the Ghanaian fisheries system (and one from Malawi)—from chief fishermen and women processors in villages, to boat owners, to government officials and representatives from non-governmental organizations.
"One of the strengths was that you had people from throughout the system, and you had everyone talking to each other, which is unique for Ghana," said Glenn Ricci, a coastal manager at CRC and co-leader of the course along with Kathy Castro of the Fisheries Center.
In addition, the course was offered early in the tenure of the CRC-led USAID/Ghana Sustainable Fisheries Management Project (SFMP), which aims to help Ghana rebuild its collapsing small pelagic fishery, providing a broad window of opportunity for learning and implementation. "The primary difficulty is that even though there are strict rules and regulations in place, very few people are complying with them," Castro said. SFMP and the fisheries leadership courses strive to change that.
The program, hosted at the University of Cape Coast (UCC), included faculty participants with the aim of building their capacity to offer these courses in the future. Next year, SFMP and UCC will co-facilitate and jointly implement the course.
Unlike some of the fisheries management programs CRC offers, which focus more on the technical aspects of fisheries, this course focused more on building leadership skills and empowering participants to understand that they can influence behavior throughout the fisheries system. The program covered how to influence people, how to understand your role in influencing positive behavior change, how to address conflict through finding common interest and understanding with those you might think you share no common ground.
With SFMP now underway, "there will be a great deal of follow on. We will offer programs like this twice a year. We want to create a group of 100 leaders throughout the fisheries system, strengthen their knowledge and ability to influence discussions from the local to the regional and national level. The courses are just a small part of a larger capacity development strategy to foster learning outside of the classroom," Ricci said.
Ghana's small pelagic fishery is crucial to its food security, and with SFMP, the timing is perfect for supporting a cadre of local people who can lead the country toward some tough decisions on how to reduce fishing effort in hopes of rebuilding fish stocks. For a renewed strategy to work, all stakeholders throughout the fishery system have to believe in the actions, despite low levels of trust and a history of ineffective management. Improved relations across the fishery system can make a new small pelagics fishery management plan more meaningful going forward.
In addition to classroom instruction in leadership, goalsetting, developing co-management plans and creating action plans, the group did a preliminary community analysis and then ran a stakeholder meeting in the fishing village of Elmina, Castro explained. This gave them hands-on experience to understand how local people see the way forward, what their visions are and to learn to listen more and talk less: a skill critical to being a successful leader. "It was very good for them to talk and listen to each other," she said.
One message that emerged is that women fish processors have a good deal of power in the fisheries system. Many own boats and decide what fish to buy. "If organized, they could really influence the system," Ricci said, much as the women in Cayar, Senegal, have as part of the CRC-led USAID/COMFISH project.
SFMP is there to guide and support Ghanaians' progress toward a sustainable fishery, "but really it's for them to do," Ricci said. "The goal is to develop a viable network of informed, motivated people that understand the fisheries system and the power of vision driven changes."
Throughout the tenure of SFMP, which concludes in 2019, CRC will return to Ghana with additional programs that build individual capacity that then strengthens the organization and ultimately the institutions and networks made up of those individuals and groups.
"It's the follow-up, learning by doing method. It's the CRC way," Ricci said.