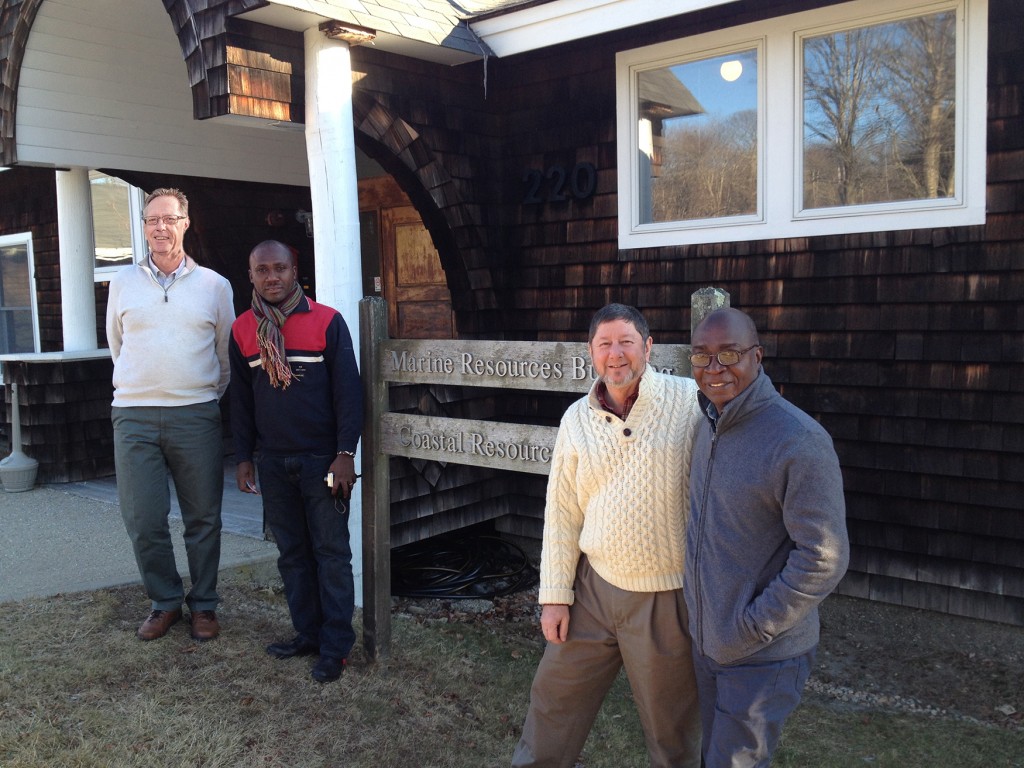 Fisheries experts Dr. Denis Worlanyo Aheto and Dr. John Blay of the University of Cape Coast (UCC) in Ghana braved the snow and cold to travel to URI in early January to study models of integrated coastal management and outreach programs and to foster research cooperation and learning opportunities for students at both universities.
"Our primary objective is to look at the various models for how universities can support capacity building in fisheries and coastal management," said Aheto, head of the department of Fisheries and Aquatic Sciences at UCC and project manager at UCC's new Centre for Coastal Management, funded by the United States Agency for International Development (USAID). Fisheries capacity building, research and extension are at the core of the center's mission, said Blay, UCC fisheries professor and coordinator of the new center, and URI and Rhode Island are leaders in those areas.
The Coastal Resources Center (CRC) at URI's Graduate School of Oceanography hosted the men for a week as part of CRC's USAID/Ghana Sustainable Management Fisheries Project (SFMP). Aheto and Blay held discussions with faculty and top administrators across URI, met with members of the Commercial Fisheries Research Foundation and Save the Bay, visited National Oceanic and Atmospheric Administration and Department of Environmental Management offices and learned about Rhode Island Sea Grant's extension and outreach work. "The Sea Grant model is fantastic," Blay said.
"The role of the state is very strong in driving research in fisheries (in Rhode Island)," Aheto observed. "We would like to adapt this to the situation in coastal Ghana." They said the URI and Sea Grant experiences have provided them with a framework for addressing the challenge of bringing the government of Ghana on board in terms of commitment and funding for fisheries and coastal management and overcoming the lack of connection among organizations. "That is really the issue (in Ghana), the need to establish a strong connection. There is too large a gulf between the university, the government and the fishermen," Aheto said.
"The Commercial Fisherman's Research Foundation is very interesting" in its strong connections to URI and fisheries research, Blay said. "In Ghana the fishermen are not seeing the university as a resource." That lack of integration translates to a lack of support for university research, the men say, and they want to change that.
Aheto said Rhode Island and Ghana do share similarities when it comes to fisheries and coastal management. "We have the building blocks of a good system in place. We have UCC; we have a ministry of fisheries; we have fishermen's organizations. The structure is in place, the problem is to bring up the capacity of the people in these institutions."
Developing that capacity is where the role of URI is particularly important. One of the goals of the five-year SFMP initiative is to strengthen UCC's fisheries and coastal management department by hosting up to 10 masters and doctoral students from UCC at URI, sponsoring other student and faculty exchanges, conducting joint research and holding a fisheries leadership course in Ghana that draws on URI's experiences.
Such capacity building already is underway. Next month UCC students begin SFMP fieldwork in two estuary areas in Ghana, said Najih Lazar who is transitioning from the URI Fisheries Center to join SFMP in Ghana as fisheries advisor. "We will focus on applied research, working directly with two communities. UCC students will collect data from fishermen and exchange information with them," explained Lazar.
Back in Ghana, Blay and Aheto will share what they have learned with their colleagues and counterparts in the government and make their case for outreach and integration. "We are going to make ourselves relevant through discussions with government and fishers and get the dialogue going," Blay said.
UCC's Center for Coastal Management already is gaining momentum, they said. The fisheries and coastal management department has bought three vehicles that will allow its 50 undergraduates and 20 graduate students access to field sites for research, and laboratories are getting new equipment and renovation. "We are like new kids on the block. There is much to be excited about," Aheto said.