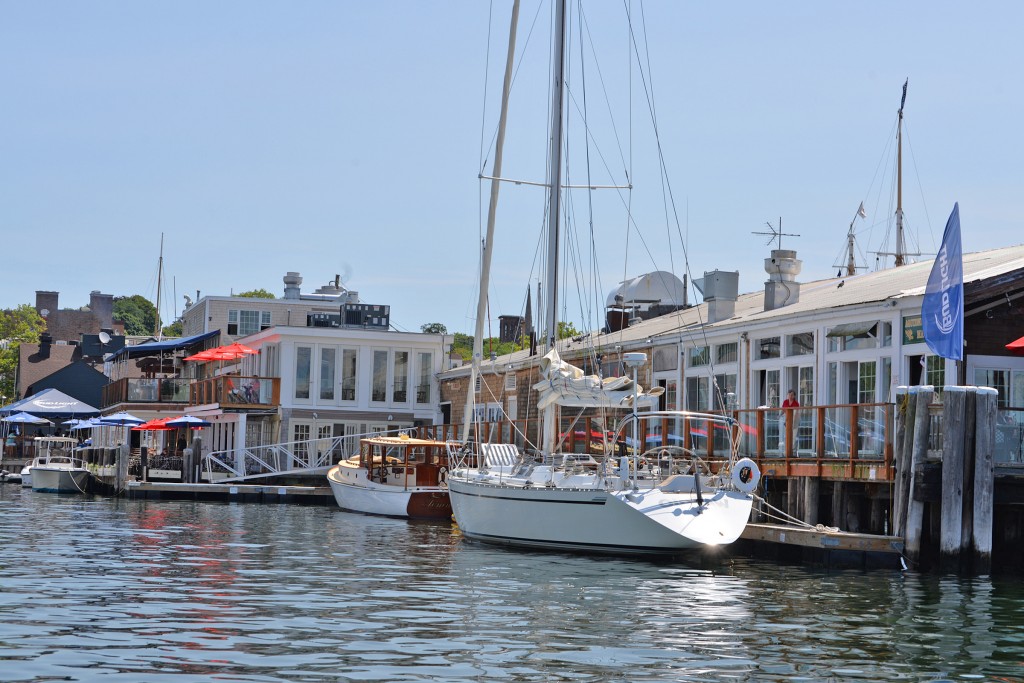 Increased outreach and education, financial incentives and ease of implementation could help waterfront businesses strengthen their resiliency to climate change and sea-level rise impacts and, ultimately, strengthen their bottom lines. Those were some of the messages delivered at last week's Newport Resilience Assessment Tour led by the Coastal Resources Center (CRC) at the University of Rhode Island's Graduate School of Oceanography.
The assessment tour was part of CRC's Climate Change Adaptation for Municipalities: Newport, R.I., project. CRC and partner Rhode Island Sea Grant assembled a team of experts to examine three waterfront pilot sites, assess their resilience and make recommendations for strengthening. The team included representatives from universities and government bodies as well as professionals from the insurance, disaster management and architecture fields. They assessed properties along the Newport Harbor with diverse uses and conditions.
The goal was to help Newport's waterfront business sector (for profit and non-profit alike) continue to become more resilient to sea level rise, storm damage and climate change impacts. The knowledge gained and lessons learned will inform good practices and recommendations for the pilot sites that can then be replicated elsewhere in the city, state and beyond, said Pam Rubinoff, CRC coastal manager and a project leader.
One message coming out of the tour was that while resilience certainly can be designed and built into new structures, existing properties and environs also can be strengthened in cost-effective ways. "If you can do a little bit now, what that it is going to save you is monumental," said Dan Goulet of Rhode Island's Coastal Resources Management Council and an assessment team member. These measures can pay off not only by minimizing damage in a storm or flood of today (and high tides in the future with accelerated sea level rise), but by ensuring that an entity can operate without interruption after such an event. Tie-downs for rooftop equipment, properly protected utility hookups and water-permeable features for parking lots and streetscapes were among the examples shared.
Before any resilience strengthening can occur, however, businesses, municipalities and the public need to be made aware and educated. "We need to work across disciplines and get our messages out to different audiences," said Teresa Crean, CRC coastal manager. Bill Coulbourne, a structural engineer from Delaware who has actively participated in post-storm assessments including Sandy and Katrina and was a Newport assessment team member, agreed: "This is not one size fits all. Outreach is important; make it easy for businesses to engage."
Otherwise, lack of information can have a steep price, literally. He noted that up to 15 percent of federal funds awarded to a state in the wake of a disaster can be used for mitigation projects. Unfortunately, many communities don't know that such incentives are available and how best to access them. Funds that go unused must be returned to the federal government.
The Newport team currently is preparing summary reports for each of the pilot sites and will share knowledge gained from the assessments with the business owners and other waterfront entities in the fall. Businesses and community waterfront actions will be highlighted at the Ronald C. Baird Sea Grant Science Symposium in December, Staying Afloat: Adapting Waterfront Businesses to Rising Seas and Extreme Storms. Pilot activities will be reviewed during a follow-up project related to green infrastructure capacity building in Newport, North Kingstown and Warwick starting in January. The Newport Assessment Tour was funded by the van Beuren Charitable Foundation, 11th Hour Racing and the Prince Charitable Trust.