Oysters have learned to stick together, growing in clusters where they have better success as a group than as individuals. And so it is for a group of women in The Gambia who have clustered together to form the TRY Oyster Women's Association. These women are hard-working oyster harvesters, and this simple little shellfish has empowered them to achieve great things. Last year when the government granted TRY exclusive user rights to manage their own fishery and they were awarded the Equator Prize, their victories tasted very sweet, indeed.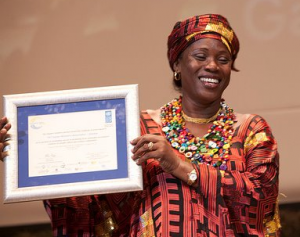 "Upon hearing the news of receiving the Equator Award, the women cheered and clapped at the TRY Centre, quickly forming a circle around one woman who began dancing in celebration, slowly at first and then faster to the excited claps of the women," said Fatou Janha, TRY Executive Director, giving her acceptance speech in Brazil last year. The Equator Prize is awarded biennially by the United Nations Development Program in recognition of outstanding community efforts to reduce poverty through the conservation and sustainable use of biodiversity.
"The psychological effects of receiving this Award, however," said Ms. Janha, "far surpass the international recognition, the potential networking and financial benefits. It has helped to inspire confidence in each individual woman of TRY as well as in the women as a group." The TRY Association women have been an integral part of a planning process, which led to an approved Cockle and Oyster Co-Management Plan for the Tanbi-Wetlands National Park. Under this plan, the TRY Association was granted exclusive rights to use and manage the oyster fishery, possibly the first time fisheries rights have been granted to a women's group in Sub-Saharan Africa. Ever.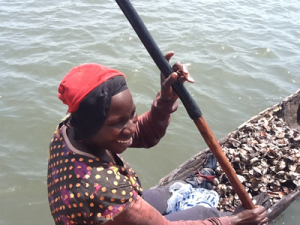 Seafood is the main source of protein in The Gambia, where the gathering, processing and marketing of oysters are arduous and hazardous tasks left almost exclusively for women to do. The 500 members of the TRY Oyster Women's Association are mostly uneducated, widowed, middle-aged women who are the sole bread winners for their families. With an average age of 40, these women have traditionally suffered disproportionately from indebtedness and economic hardships during the closed harvesting season and a difficult and hazardous working environment during the harvesting season, which includes crocodiles.
So for them to be recognized on an international stage was a huge accomplishment. "It reminds them that in their quest to improve their lives, they are doing it responsibly and sustainably, and therefore admirably. The Award also increases the trust they have in themselves, in each other, and in the Association. This confidence and trust building brings the women together as a stronger unit with a stronger voice."  
Since 2009, the URI Coastal Resources Center and USAID have been working in The Gambia and neighboring Senegal on a 5-year, multi-faceted Sustainable Fisheries Project called BaNafaa. As a result of this project, the TRY Association women have seen many improvements in their lives and their resource. They now have better access to proper gear for harvesting and have established greater cleanliness practices for marketing, setting their product above the rest. They practice more sustainable harvesting techniques and have instituted seasonal closures to allow the oysters to grow bigger and fetch better market prices. During these closures, they harvest cockles and are being trained in alternative livelihoods such as soap making and aquaculture. They receive literacy training and small business and financial management training and have access to credit, which has enabled them to save money for the first time in their lives. Last year they held the Fourth Annual Oyster Festival with more than 250 guests including the Gambian Vice President.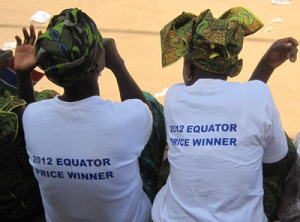 "By receiving this Award, the women understood they were being recognized for their years of labor, which has been passed down through numerous generations, for their years of quietly providing for their families amongst many hardships, and for their most recent efforts of coming together and working for common goals under TRY Association."
In addition to what the TRY women are doing to improve themselves and their livelihoods, they are extending a hand to the next generation. Traditionally, daughters of oyster harvesters have been forced to drop out of school due to a lack of school fees and the resulting lack of education about sexual and reproductive health put them at high risk for teenage pregnancy and disease. Now, for the first time and thanks to TRY, the Ministry of Education has awarded 17 school scholarships to the most deserving children of the oyster harvesters. In addition, the daughters of TRY members are being trained in health education and culinary and handicraft skills at the TRY Center to supplement the family income and to have livelihoods choices other than oyster harvesting. Besides giving them lifestyle alternatives, this also reduces the pressure on the shellfish and mangrove resources.
In the words of Ms. Janha,"I knew if I could bring just a small sliver of their energy, their laughter and their relentless determination with me to Rio, the . . . international community would easily understand why TRY received this Award."