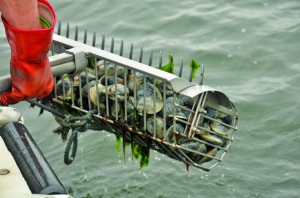 The University of Rhode Island (URI) is continuing to play a leadership role in helping the state plan for the future of its shellfishing resources through The Rhode Island Shellfish Management Plan (SMP). The effort is well underway, with the URI Coastal Resources Center/Rhode Island Sea Grant College Program (URI CRC/SG) at the URI Graduate School of Oceanography serving as chief facilitator.
It's a milestone project for the Ocean State, which claims the quahog as its official shellfish. In 2013, URI CRC/SG has brought together state agencies, researchers from URI and Roger Williams University (RWU) and myriad stakeholders — members of Rhode Island's traditional wild harvest industry, representatives from the growing aquaculture field, the nonprofit community concerned with restoration of shellfish in the Bay and coastal ponds and the recreational clamming community — to collaborate on the SMP.
Some of the ideas that have emerged so far call for the SMP to create guiding policies that: 1) Build understanding of the economic, environmental and cultural values of the local resources and industries; 2) Propose alternative management strategies and new mechanisms for implementation; and 3) Promote science-based shellfish management decisions by increasing science activities.
The project garners interest not only for its potential to improve how shellfish are grown and harvested in state waters, but also for the support it might provide to the shellfish industry and the awareness it might raise about the social and cultural values that Rhode Islanders connect to the resource.
These concerns were front and center when the project launched late in 2012, and URI CRC/SG is working with the Rhode Island Department of Environmental Management (DEM) and the Rhode Island Coastal Resources Management Council (CRMC), state agencies with regulatory responsibilities for overseeing shellfish management in the state, on the initial phase of the SMP. Joining in these concerns are key SMP supporters — the Rhode Island Foundation, the Prospect Hill Foundation, the Sharp Family Foundation/Henry and Peggy Sharpe, the URI Coastal Institute and the Rhode Island Sea Grant College Program.
Getting the public involved in the project has been a key initiative, and spring 2013 saw URI providing the public with plenty of opportunities to engage in the SMP process, from stakeholder meetings to workshop sessions at which attendees could identify critical resource areas on maps. For the summer season, citizens have the chance to sign up for guided clam-digging tours, and more events are slated for fall.
Also in the fall, a new phase of SMP development will get underway, as the draft SMP chapters are created and provided to the public for review and comment. But even once the SMP is developed, the work is far from over. In fact, implementation — the carrying out of the plan policies by the state agencies in collaboration with stakeholder groups — will require continued improvement and enhancement of the policies as new information and data become available.