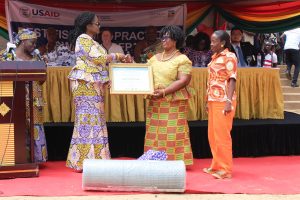 "I wish I had participated in the post-harvest fisheries business development training program earlier" says Peace Abla Gavor, a 54 year old fish processor at Elmina in the Central region. She was struggling with the family business she inherited.
After more than 30 years of stress and strain, her small enterprise fell on hard times. Peace's children had to drop out of school to help keep the business running. The family was barely living from hand to mouth, a situation which is a major source of worry to her family. In Ghana, despite the central role women play in feeding the nation, their empowerment is largely overlooked in the fisheries sector.
Women consistently find them-selves confined to the lowest end of the fisheries value chain – a position that is perpetuating and widening a gender-based disparity in income.
Poor fish-handling and processing practices, inadequate records-keeping skills, illiteracy, and lack of access to loans also contribute to economic hardships that threaten entire families. To help show women like Peace a better way, USAID through the Sustainable Fisheries Management Project has been working to support Micro, Small and Medium Enterprises along the coastal communities.
With the project's support, more than 2034 people, the majority being women-owned businesses, have been trained in business development skills. Participants have learned about fish processing skills, food safety, pack-aging and marketing, financial management, and alternative livelihoods. They also received instruction on organizing and receiving soft loans from the financial market.
The training adds value to the participants' products, thus increasing sales and expanding operations. In turn, these business owners can pursue meaningful change and improve their lives. After participating in a series of trainings, Peace moved away from her old method of business and has started practicing what she learned from the project.
Today, Peace keeps proper records, has expanded her business and has been awarded the most exemplary individual fish handling and processing practice along the coast. "Thanks to USAID Sustainable Fisheries Management Project (SFMP) I can now enjoy much benefits from my business" she smiled.