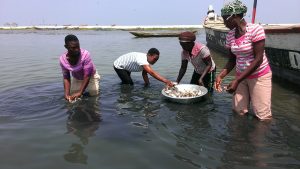 Oyster harvesting in the Densu estuary is a traditional vocation passed from generation to generation in Tsokomey and Bortianor fishing communities in Ghana's Greater Accra region. However, oyster harvesters, mainly women, have seen harvests dwindle over the years, reducing the benefits of gathering shellfish as a supplemental food and income activity.
Through the U.S. government's Feed the Future Initiative, management innovations are being introduced by the United States Agency for International Development (USAID), Sustainable Fisheries Management Project. These communities are now making progress in restoring oysters stocks in traditional harvest areas.
With project support since 2016, about 150 fisherfolk have learned about oyster biology and ecology and importance of water-quality and mangrove habitats to the health of the fishery. With a growing understanding of oyster ecology and data collection, the fisherfolk are beginning to plan for the restoration of man-groves and other measures that provide enhanced habitat for the oysters to grow.
The initiative is a collaborative effort by SFMP and Ghana's Fisheries and Forestry Commissions to encourage local fisherfolk to become good stewards of this resource. Development Action Association, a local implementing partner for the project, is working directly with members of the communities to provide leadership training workshops for oyster harvesters. According to local residents, the support has strengthened their efforts to develop a co-management approach to preservation of this fishery.
"USAID is helping us restore the habitat for our oysters," said Emilia Nortey, a 63-year old development worker in the area. "We now understand the ecology and the reproductive cycle of the oysters, as well as their management," added Bernice Agorgro, one of the 150 people who received training.
The co-management approach is forging an effective partnership between the government, key stakeholders, and fisherfolk to share responsibility for management of the fishery. Thus, the oyster pickers are em-powered to make their own choices to improve their livelihoods. The Executive Director of Development Action Association, Mrs. Lydia Sasu, is optimistic about the future of the initiative, "I am confident, especially because of the resolve of the oyster pickers. USAID's support is helping Ghana restore its depleted oyster stocks important to local food security''.