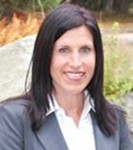 Jennifer Critcher, an executive leader who specializes in both nonprofit and higher education administration, has been named assistant director at CRC. Critcher comes to CRC from URI's Institute for Immunology and Informatics, where she managed a $6.5 million budget and oversaw human resources functions and business strategy.
Prior to joining URI, Critcher was CFO of The Retreat, a $4.5-million nonprofit comprehensive domestic violence services organization located in Long Island, New York. She co-lead this agency in a manner that prioritized financial stewardship while emphasizing operational, programmatic and strategic planning for the organization.
She committed her tenure at The Retreat to engaging the community and its leaders while thinking creatively and coordinating the support of a diverse team, field staff and consultants. This effort generated significant, multi-year grants from federal agencies for innovative programming. These programs included permanent  housing, transitional housing and engaging men in the effort to end domestic violence.
Critcher serves as a board and finance committee member for the Audubon Society of Rhode Island and volunteers and is a board member for Clinica Esperanza, a free medical clinic in Providence. She and her family are relocating to Richmond, R.I., where she plans to be active locally.