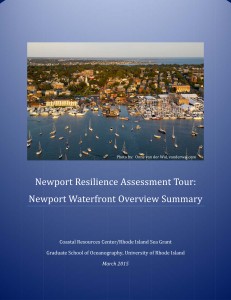 CRC has recently published a report providing an overview summary of the Newport Resilience Assessment Tour (NRAT), which CRC led in the summer of 2014 along with its partners at R.I. Sea Grant and R.I. CRMC.
NRAT was conducted as a climate change adaptation effort concentrating on Newport, RI, waterfront and a conducted through the participation of several businesses and organizations interested in receiving recommendations for protecting their property and assets from storm damage and sea level rise.
The assessment tour and report were completed as part of the R.I. Shoreline Change Management Plan (Beach SAMP).