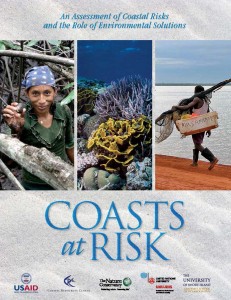 CRC has published a comprehensive report that addresses risks that natural hazards pose to the world's coastal nations and potential environmental solutions.
Coasts at Risk: An Assessment of Coastal Risks and the Role of Environmental Solutions examines coastal nations' global risks from natural disasters and the effects of environmental degradation and identifies environmental solutions that could reduce those risks.
The report presents in detail the Coasts at Risk Index, which assesses coastal nations' risk based on the indicators of exposure, susceptibility, vulnerability, and the capacity to cope and adapt. The index rates nations from very low to very high risk based on those indicators.
Coastal development and climate change are rapidly changing the world's coastlines and dramatically increasing risks of catastrophic damage. Erosion, inundation and extreme weather affect hundreds of millions of people and communities, and environmental degradation compounds these risks. Prior papers and reports have focused on recommendations for either risk reduction or conservation objectives (e.g., early warning systems for risk reduction or protected areas for conservation). This publication takes an integrated approach by focusing on analyses and recommendations to benefit both people and nature and environmental conservation objectives. The recommendations are relevant to policy-makers, scientists, conservationists and risk managers.
Coasts at Risk is a joint publication of CRC, The Nature Conservancy (TNC) and United Nations University-Institute for Environment and Human Security and is available here.