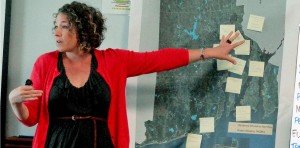 Not long after the catastrophic Indian Ocean Tsunami in December 2004, the University of Rhode Island's Coastal Resources Center (CRC) and the National Oceanic and Atmospheric Administration (NOAA) were among those on the ground in the affected nations, applying their expertise to help people recover and rebuild.
Nearly a decade later, that work still pays dividends, both internationally and domestically, thanks to a fruitful partnership between CRC and NOAA and the relationships built during the United States Agency for International Development (USAID)-funded post-tsunami work.
"Today, we are affecting policy and programming for Rhode Island and providing a living laboratory for the US and other coastal nations," said Pam Rubinoff, a coastal manager with the CRC who worked on the project.
A key element of the post-tsunami work funded through the United States Agency for International Development (USAID) focused on managing and developing coastlines to better withstand the ravages and vagaries of nature. "We realized it wasn't only about response but about being proactive in rebuilding better," Rubinoff said.
Part of that proactive bent included building the capacity of both individuals and governments to address threats, to see opportunities and to change minds. "Our work on coastal resilience really started during those trainings," Rubinoff said.
To keep the coastal community resilience momentum going, CRC led a month-long Coastal Management Institute course on advanced coastal management with a focus on climate change in June 2008. The trainings, which CRC had been offering for well over a decade by then, attracted an international student body of professionals. But the 2008 course attracted a couple of Americans as well.
Gwen Shaughnessy was one. The timing of the course, the policy and governance theme and the leadership training opportunity were a perfect fit for Shaughnessy, who was then with the State of Maryland's Chesapeake & Coastal Service. She was tasked with helping to develop the state's Climate Action Plan and to get that plan off the ground that summer.
"Because I had come from a hard science background, and this was a policy position (her Maryland role), I was a total fish out of water," the marine biologist/chemist and now climate change adaptation expert said recently.
But she learned quickly. "I spent the month (at Summer Institute) developing a program, so when I returned to Maryland, I was able to hit the ground running," Shaughnessy recalled.
At the same time, NOAA's Coastal Services Center (CSC) based in South Carolina recognized a domestic need for the type of training initiated by USAID, NOAA and CRC overseas to integrate climate change adaptation in coastal communities. "NOAA picked up on that and began to offer the training in the U.S.," said Rubinoff. "CRC worked with NOAA to mainstream climate change adaptation into the training for marine protected area management and then coastal management professionals."
In early 2011, NOAA worked with USAID, CRC, Center for Ocean Solutions, San Francisco Bay Conservation and Development Commission and TetraTech to pilot the training program on climate change adaptation in Marin, Calif., and then at URI. Since then, NOAA has offered about a dozen climate change adaptation courses to more than 400 professionals around the country and in Saipan, Mariana Islands. Shaughnessy and the team honed the curriculum, duration and approach and worked effectively to spread the capacity building to all coasts of the US.
Today, Shaughnessy is a key part of that. She joined NOAA's CSC as an instructor shortly after the program launched. Mary Culver, training director at CSC, said Shaughnessy's work in Maryland following her attendance at the Summer Institute in 2008 played a role in her hiring. "She had the knowledge; she had been in their (potential participants') shoes," Culver said.
In late June 2013 Shaughnessy and Culver joined Rubinoff at CRC in Narragansett to present the 3 day NOAA course, "Climate Adaptation for Coastal Communities."
For Shaughnessy, it was a bit like going full circle.
Five years ago she sat at a table in the same building on Narragansett Bay learning about coastal management and climate change at CRC. This summer she returned as an instructor of climate change adaptation, distilling information and offering hands-on skill-building opportunities to municipal and state planners, private consultants, natural resource managers and a host of others with a stake in their communities' futures.
"I didn't know where to start," Shaughnessy recalled of her 2008 experience at CRC. But today, she not only knows where to start but helps others facing the challenges of climate change in their coastal communities build the capacity to succeed. Rubinoff said the collaboration with NOAA is an example of how a project created in response to a singular event in one location can, through effective partnerships and creative innovation, evolve to have wide-ranging application and value.
"We often think that US has things to offer our developing world programs, but in this case, the international program and partnership with USAID were imported back into the US with some great success," she said. And the demand for the climate change adaptation courses is testament to their relevance. "We are booked through the summer of next year," Culver said, noting that the individual-project aspect and post-course coaching make the offerings applicable and replicable in diverse settings.
The courses are presented with partners, such as NOAA's National Estuarine Research Reserve System and consultant TetraTech.