CRC and URI Fisheries Center staff joined partners on the Enhanced Coastal Fisheries (ECOFISHBD) project in Barisal, Bangladesh, to conduct a three-week fisheries stock-assessment training course in June.
CRC project manager Jim Tobey and Kathy Castro and Barbara Somers of URI's Fisheries Center led the training course for 30 Bangladesh fisheries professionals.
The program combined classroom work with one-on-one instruction and fieldwork that also engaged local fishing community members. "This was the first trip for us to Bangladesh. We had prepared extensively by collecting all available published information about the hilsa fisheries, stock assessment and fish biology," Castro said.
The program consisted of morning classroom sessions, followed by computer work in the afternoon. Halfway through the course, participants worked on an applied problem to help them synthesize knowledge and understand applications.
Adapting to the differing skill levels and backgrounds of the students, Tobey, Castro and Somers adjusted their teaching methods and supplemented classroom lectures with additional integrated hands-on experience and field sessions.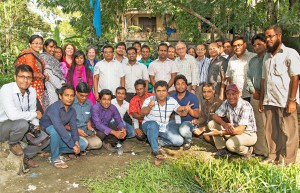 They also had to overcome logistical challenges that included power outages and flooding in the classroom building after heavy rains. Despite the challenges, participants gave the course positive marks, finding particular value in the one-on-one attention and seeking a follow-up refresher to retain and build on their skills.
CRC is a sub-grantee of ECOFISHBD , five-year initiative of USAID, WorldFish and the Government of Bangladesh that supports coastal capture fishing communities and other ecosystem users and key stakeholders to improve the resilience of the Meghna River estuarine ecosystem and the livelihoods it supports. ECOFISHBD aims to improve science-based fisheries decision-making; strengthen fisheries adaptive co-management; and enhance the socio-economic resilience of hilsa fishing communities.